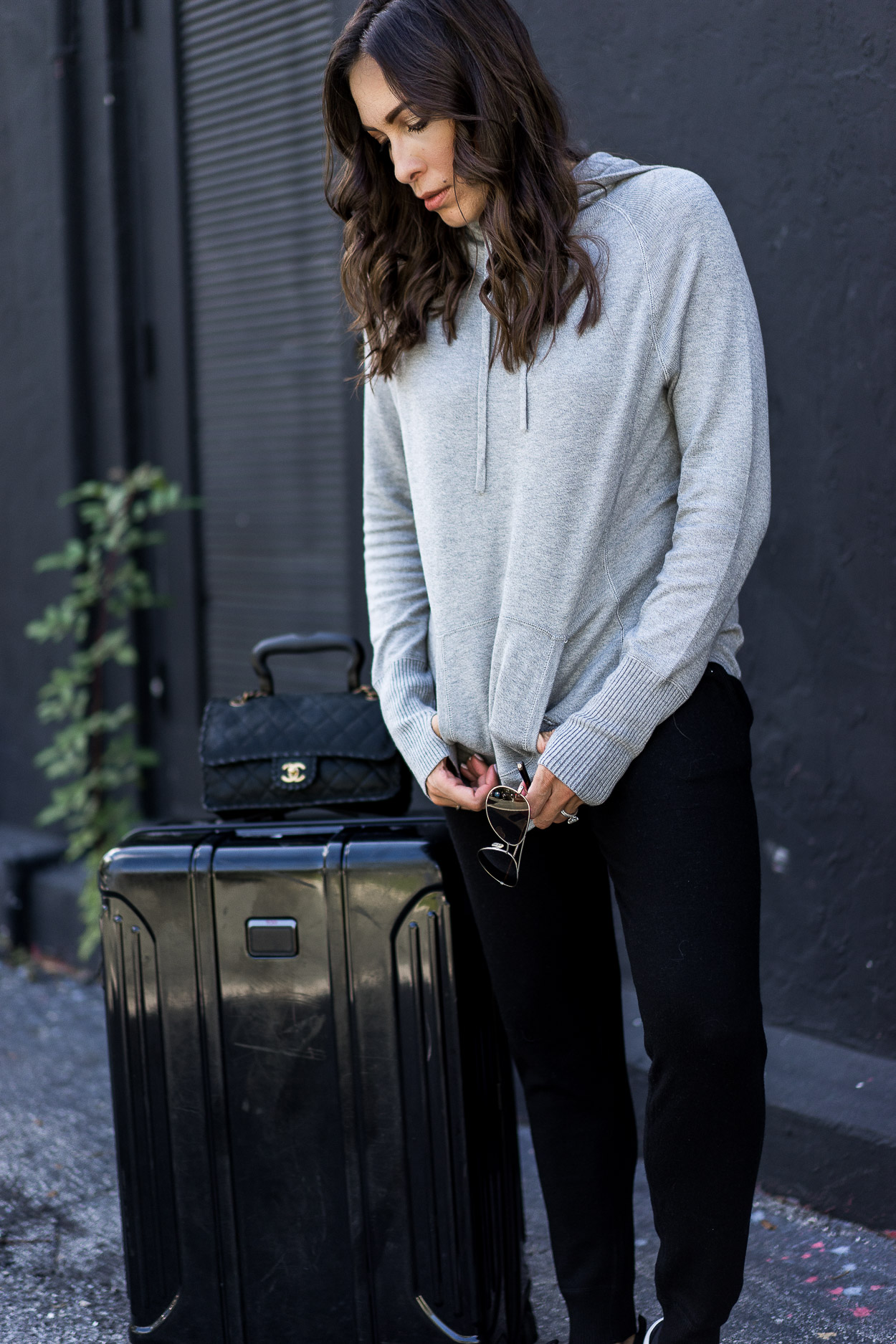 Obsessed. That's how I feel about Leimere. Haven't heard of them? Oh, you will. Right now Leimere is flying under the radar. But, not for much longer. The line of affordable cashmere (yes, there is such a thing) is buttery soft and EVERYTHING is under $100. The luxe cashmere separates are great for running errands or lounging around the house (I've done both in them). And, for a regular traveler like me, it's a dream.  The athleisure trend sort of passed me by. But, once I pulled on these cashmere joggers ($68) and cozy cashmere hoodie ($98) – I was hooked, and you will be too. The best news?! From now until October 29th you can use code AGLAM15 and get 15% OFF your order!
Shop the Post

Hoodie: Leimere c/o
Joggers: Leimere c/o
Sneakers: Nike
Bag: Chanel (similar less expensive option here)
Suitcase: Tumi
Sunnies: Warby Parker
What to Wear When you Travel – Leimere Cashmere Joggers
I once read somewhere that traveling in professional attire (think chic blazer with white button up shirt and tailored trousers) will get you upgraded. But, I think that time has come and gone. Unless you are platinum, those days of an upgrade are rare. So, for me – travel style is all about comfort.
If you guys follow me on Instagram, then you know I've shared this Leimere outfit multiple times by now on my Stories. It just works for so many occasions. The ethically made pieces are actually cashmere blend, which is actually better because they are more lightweight. When we were going on our honeymoon, I bought a pair of $200 cashmere pants that I wore for the long flight to Bora Bora. I actually got really hot in them. When I wore the Leimere pair this past week to Dallas, they were perfect. I was comfy and warm, but not hot.
From a fit perspective, I found each piece to be true to size. For both the cashmere joggers and sweatershirt I am wearing a size small. The pieces will stretch a little as you wear them, but once you wash them they bounce back.
Because I loved these items so much I also just bought this cashmere dress in black. At a price of $58 and hitting just at the knee – it will be perfect for work or for a quick business trip. I'm also eyeing these capri joggers in blush (only $64) and this tunic in white (only $46).
With the holidays around the corner, any of this affordable cashmere would be a great gift. Don't forget to use code AGLAM15 for 15% off now through October 29th. No buyer's remorse here!
Have a great weekend.