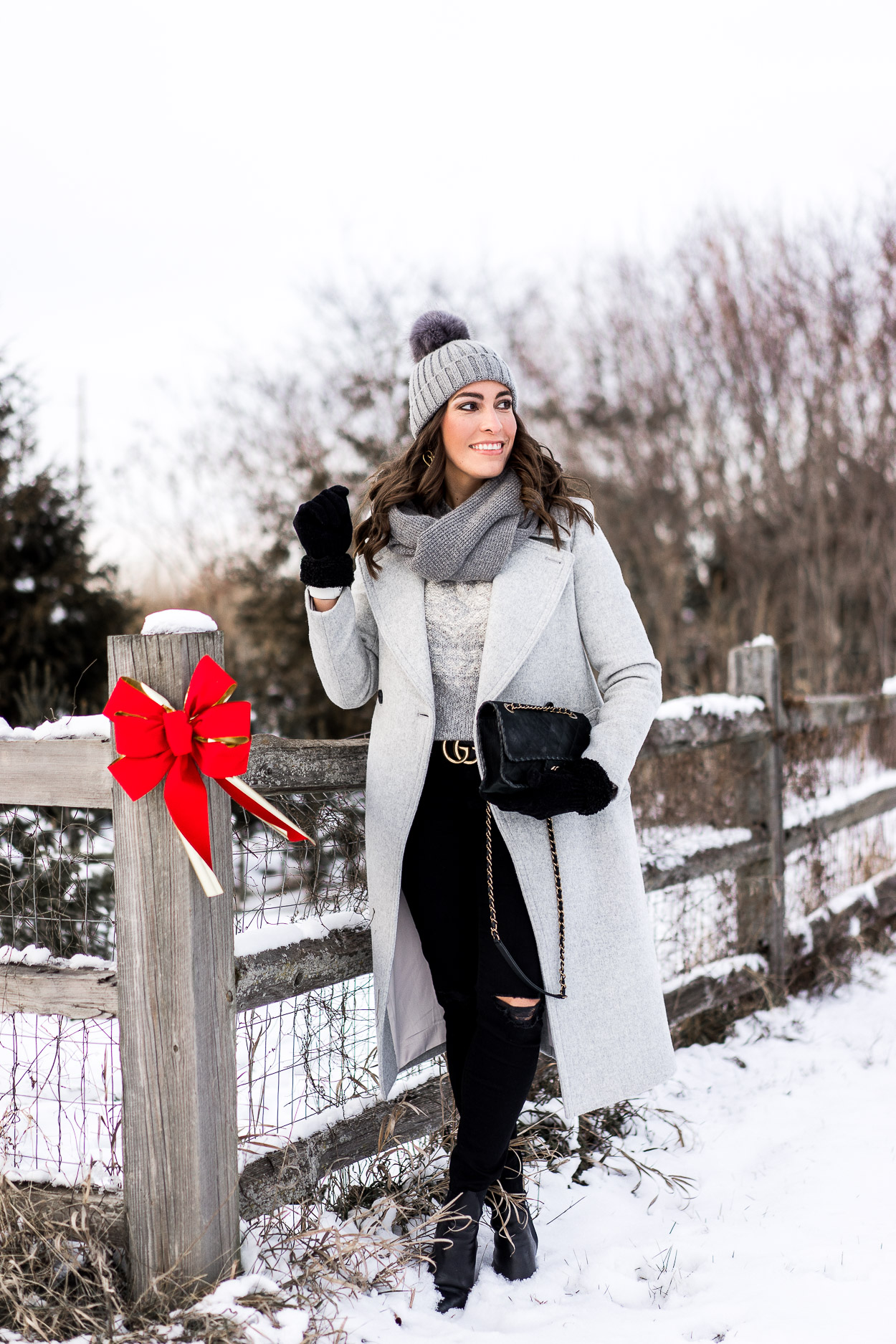 The first time I saw snow I was 10 years old on a family ski vacation in Breckenridge. I remember being excited for the month leading up to the trip, only to go to Colorado during a massive heat wave. It wasn't until the last night of our trip that the snowflakes started to fall, my parents waking me up late at night to see it in case it didn't stick til morning. With all my travel since then I've been blessed to see New York City during the holidays and quaint European towns looking like a true winter wonderland. But, there's something about Matt's hometown of Chillicothe that's so magical during Christmas. If you're a Hallmark movie lover like me, it will remind you of one of those cities, but better. Over the holidays I visited the Pine Grove Farm, the cutest Christmas tree farm, and it made me appreciate all the little things.
Shop the Post

Coat: Club Monaco
Sweater: Abercrobie & Fitch (also love this one)
Denim: Mother
Belt: Gucci
Bag: Chanel (similar here)
Boots: ASKA (similar here and here)
Beanie: JCrew
Scarf: JCrew (old)
Appreciating the Little Things
These last few months I've been reflecting on life. I know that might sound a little heavy, but the result of all that contemplation is my main resolution and goal this year – to be more present and appreciative. Last year I was getting tripped up and mired in the mess of daily tasks like getting groceries, posting on Instagram, writing on the blog, and spreading my time between friends, family and Matt that I was stressing myself out. It felt like time was passing too quickly and I could only do so much each day. I was placing so much emphasis on insignificant things I was doing and comparing myself to others. I wasn't taking time for myself to do the things I love – like running in the evening or reading a good book. Even when I was spending time with friends and family, I had my nose in my phone. I know it's not just me, but it's not a balanced life.
Finding Beauty in Every Day
But, something clicked for me right after Christmas. It was around 10 degrees outside and I pulled up to Pine Grove Farm. The owner came out as I parked the car. No one needed Christmas trees at this point – so what was someone doing coming by after season? I explained that I was a fashion blogger looking to take some photos and asked if it was okay to walk around the property. He said, "Absolutely. It's all yours… what's a fashion blogger?" Such an honest question made me laugh out loud. So, I told him. He looked intrigued and told me to have a good time.
As I walked around, each corner of the farm was more beautiful than the next. From the red barn to the fenced path with bright bows, to the snow sprinkled on top of each of the Christmas trees – it was so peaceful. At that moment, I was so tranquil and so appreciative for all God has blessed me with in life.
I have so much to be thankful for – a beautiful family, a wonderful job, great friends and good health. These are the things that matter – the things I will focus on. My goal for 2018 is to find beauty in every single day, in a new way. I will not compare myself to others and I will try to be more present in all that I do.
What are your goals in 2018?