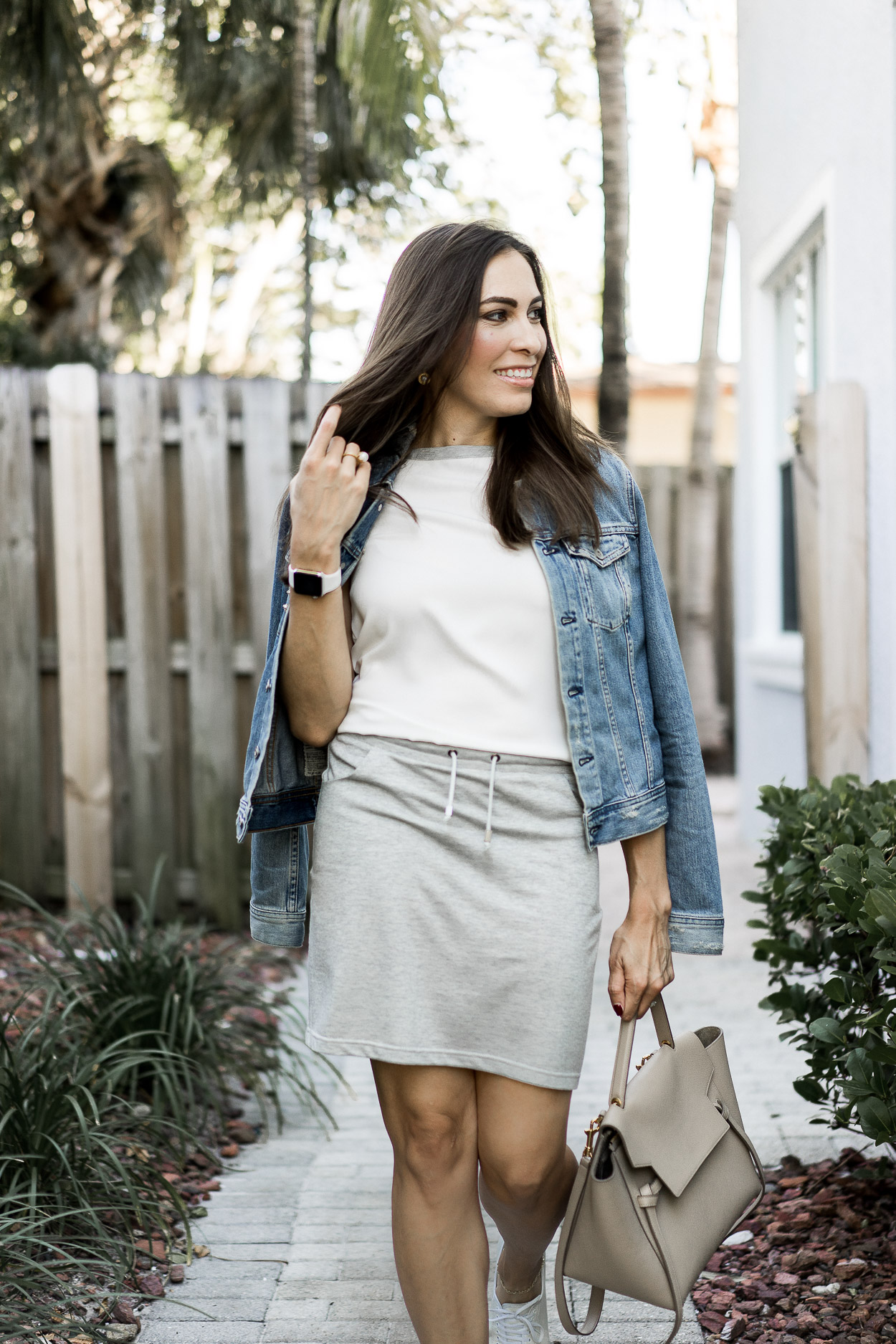 The best way to describe my weekend style is often what I call casual chic. Even though our office is business casual, I often dress up during the week. So, when the weekend rolls around I'm about all about comfortable outfits. Of course, I still like them to be a bit tailored! Anne Fontaine has a store in the Boca Town Center mall (my go-to place to shop) and every time I walk by the storefront window they have the dreamiest blouses, crisp white tops and lacy details. The new casual collection is online only and each piece was designed for the everyday woman. See two looks I styled below!

Outfit 1
Top: Anne Fontaine Casual c/o
Skirt: Anne Fontaine Casual c/o
Denim Jacket: AG Jeans
Broach: Chanel (similar here)
Bag: Celine (similar less expensive option here)
Outfit 2
Top: Anne Fontaine Casual c/o
Denim: Mother
Jacket: Maje (similar here)
Shoes: Zara (old, similar here)
Bag: Chanel (similar less expensive here)
Weekend Chic Style in Anne Fontaine Casual
So, what do you guys think?! Totally "girl next door" in the first look and "edgy chic" in the second, amiright?! That's what I love most about the two looks I put together with pieces from the Anne Fontaine Casual line – it works for all different vibes. The first outfit is more in the realm of athleisure with the drawstring skirt (which is made from organic cotton and soft jersey) and the crepe top with the grey piping. But, I actually wore this same top with my favorite pair of dark denim and grey booties (last seen here) to the office on Friday and it was a HIT!
Then, then the second look is the quintessential outfit for running errands and then grabbing drinks with the girls (#storyofmylife). Matt actually picked it up when I had my outfit laying out the other day while I did my makeup and he said, "This is so soft!" The material is to DIE for and it's extra stretchy (…thank you lord). During the day I wore it with my Converse kicks. But, for an easy date night look you throw on a leather jacket and strappy heels.
Outfit 1
Top: Anne Fontaine Casual c/o
Skirt: Anne Fontaine Casual c/o
Denim Jacket: AG Jeans
Broach: Chanel (similar here)
Sneakers: PF Flyers
Bag: Celine (similar less expensive option here)
Outfit 2
Top: Anne Fontaine Casual c/o
Denim: Mother
Jacket: Maje (similar here)
Shoes: Zara (old, similar here)
Bag: Chanel (similar less expensive here)