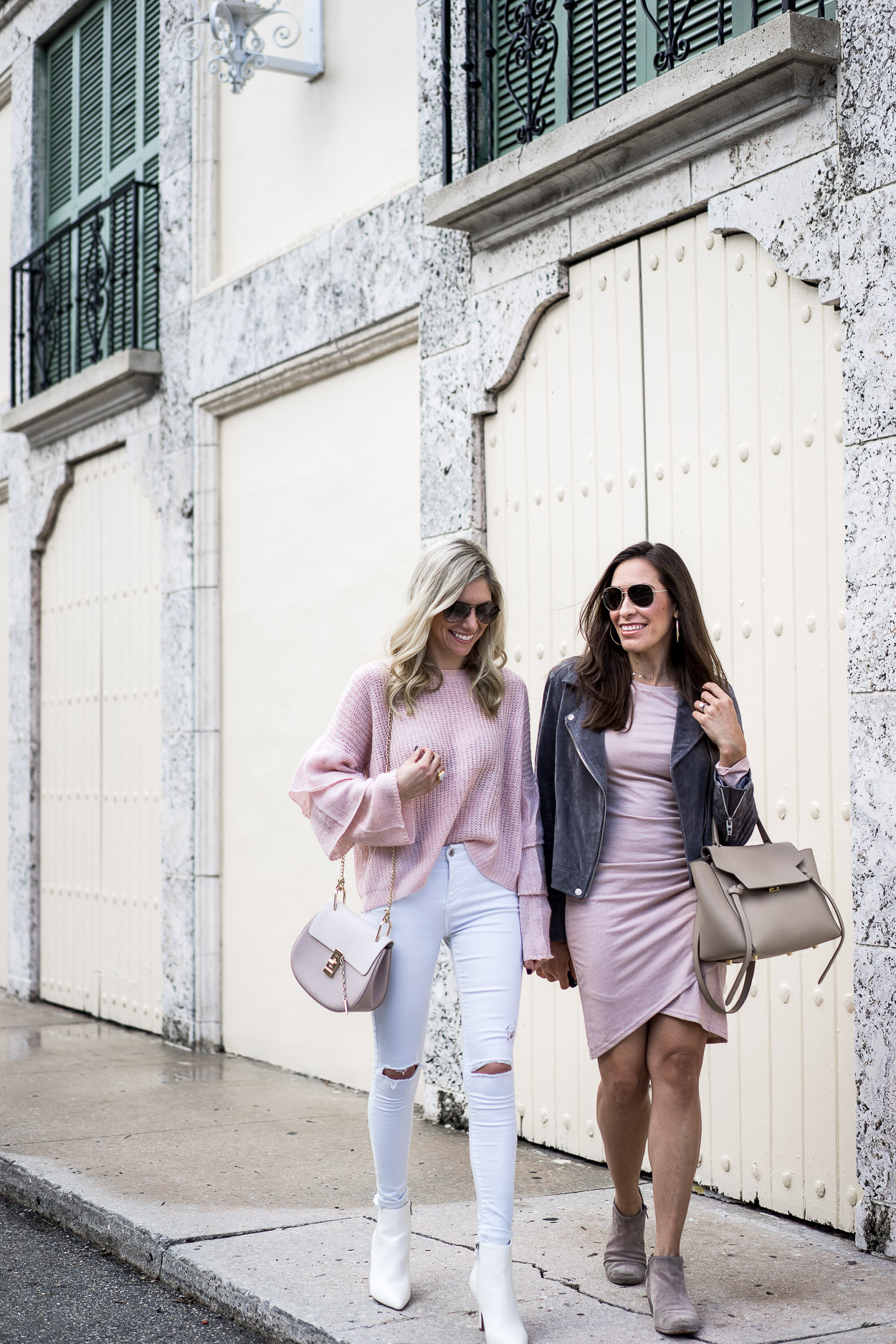 This past week was my 35th birthday and it's just been the best celebration. To me, your birthday is a celebration of your life! After parties at work and a delicious steak dinner at my parents, my blogger bestie, Kristin from The Glamourous Gal, came into town Friday night. You guys probably remember her from this post. We grabbed dinner and drinks at Rocco's Tacos on Las Olas before girl-talking the night away on my couch with a bottle of rose! Then, the next day we went down to lunch on the beach and of course – we were color coordinating! Kristen and I have a similar style, so it wasn't completely shocking that we both wore blush ensembles. My blush Leith dress comes in 5 colors and is only $59 and her pretty blush Chicwish sweater is only $52! They're both affordable Fall transitional pieces.
Shop the Post

My Outfit:
Dress: Leith
Jacket: Blank NYC
Booties: Sam Edelman
Bag: Celine (inexpensive dupe here)
Necklace: Parprala Jewelry
Sunnies: Warby Parker
Bangles: Julie Vos

Kristen's Outfit:
Sweater: Chicwish
Denim: Topshop
Booties: Forever 21 (also love these)
Bag: SheIn
Watch: Daniel Wellington

Dressing for Comfort – Leith Dress
These days, I'm all about a cozy outfit. It's not that the temps call for it (quite the opposite actually). But, I just like to be in my element – whether that's out running errands, at work, or while I exercise. This ruched Leith dress is the definition of comfortable. While I'm loving the long-sleeved version, there's also a tank dress too.
With Matt's birthday only a few days after mine, we've had no shortage of events to celebrate. So far, I've worn it for two birthday festivities (that's right!). The first was the look you're seeing here with my flat Sam Edelman booties and suede moto jacket. Kristen and I grabbed lunch with Donna from On the DL Lifestyle at S3 on the beach. It was super windy that day, so all of our layers and Fall style were totally appropriate!
I also wore it to dinner with my best girlfriends this week. Since I went right from the office to the restaurant, I styled it with my favorite white heels and blush cardigan. Adding chic neutrals is an easy way to elevate your daytime look for a night out.
What's your go-to birthday look?! Do you stay casual or go all out? Tell me in the comments below.
*Note: this dress keeps selling out in this color, but is restocked frequently! Check back if you don't see your size!