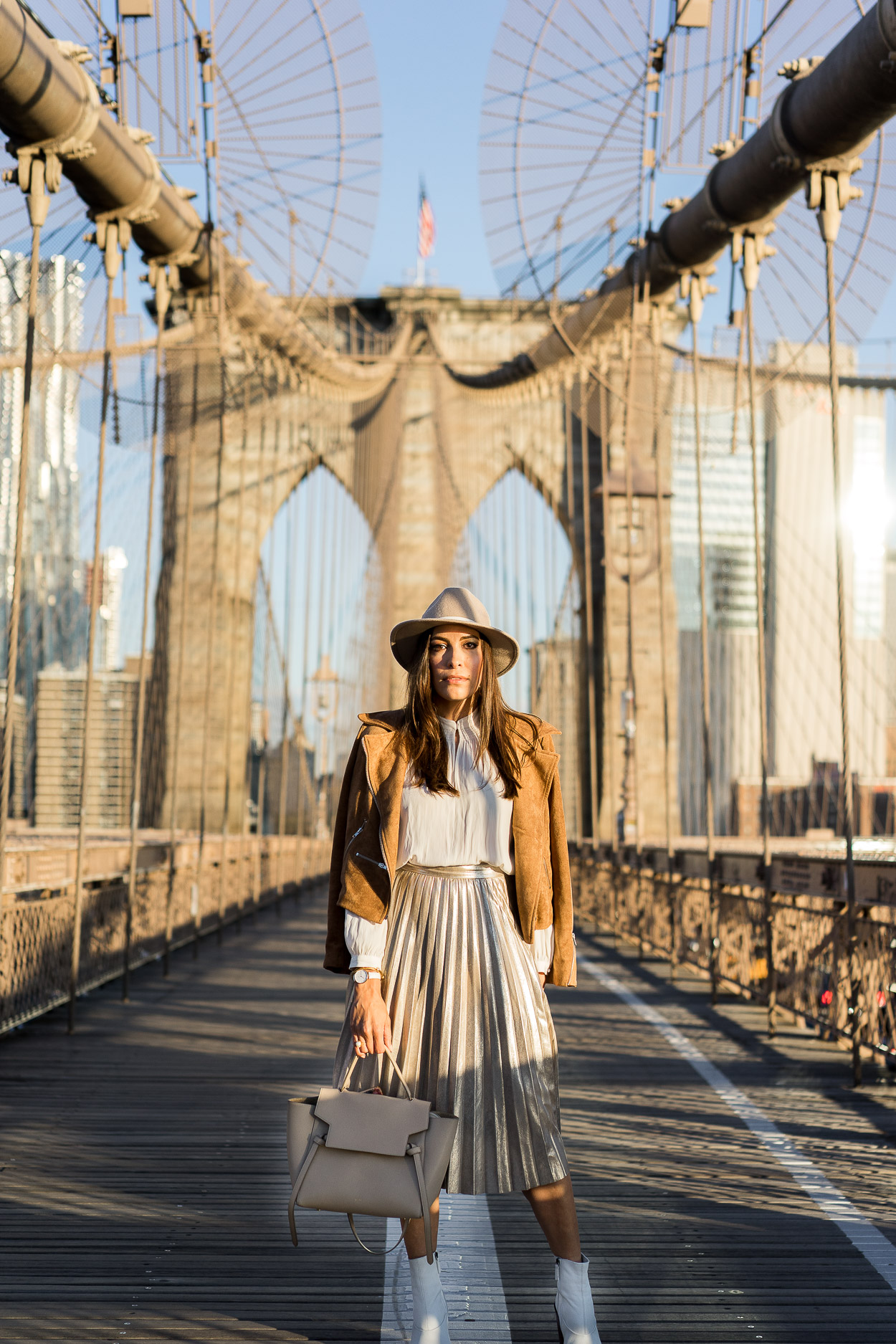 There's something so exciting about New York Fashion Week. For fashion lovers like myself, seeing the new collections go down the runway is nothing short of whimsical inspiration that refuels our outfits for the next season and gives us all sorts of new ideas on how to wear and style the latest trends. True to my style, I started day 2 in NYC with pretty neutrals that have become quintessential in my looks. But, neutrals don't have to be boring. The standout piece in my outfit? A metallic pleated skirt. Worn with of-the-moment white ankle booties and a flowing cream top and topped with a camel suede jacket for the brisk morning – I was runway ready.
Shop the Post

Top: Aritzia (similar here and here)
Skirt: Zara (identical here [also here] and similar here)
Boots: Topshop
Jacket: Lulu's (similar here)
Hat: Club Monaco (similar here and UNDER $45 option here)
Bag: Celine (similar less expensive option here)
Bangles: Julie Vos
Earrings: Gorjana
Eye Shadow: Make Up For Ever
Fall Trend: Metallic Pleated Skirt
The night before I left for New York, I was a mess. We had Hurricane Irma headed our way as a Category 5 storm. There I was leaving town, dropping our dog at my parents, with Matt on a work trip. I almost cancelled everything for NYFW, but Matt supported me going – reminding me I couldn't do anything at home if the storm actually came.
That meant I had to officially plan my outfits. So, after securing our townhome the best I could, I started packing. I'd picked up a handful of items for Fall's latest trends, like this burgundy velvet dress and this dark floral blouse. It wasn't until around 1 a.m. that I looked at what I had in my closet and realized this metallic pleated skirt would be perfect for the trip. Don't let the metallic trend scare you for Fall. Gold and silver don't have to be jarring. The gold color in this skirt isn't over the top. So, it made it really easy to pair with any top I already own. My skirt is from Zara last year, but I found an identical one that's currently 25% OFF with code FRIENDS.
I've learned over the last two seasons of heading to NYFW that comfort is key – especially with shoes. I'd bought these cute white booties for another look, but they ended up being so chic with this outfit. The block heel is popular right now, but the added bonus is that it makes them wearable all day long.
You could make this night date night appropriate by adding a pop of red, like this bag that's also 25% OFF right now. Since I kept the look all neutral and let the metallic pleated skirt be the main focus, I grabbed my Celine bag. The other thing I learned about NYFW is that you need a bag with enough room to stash goodies you grab throughout the day at events, along with your camera, lipgloss, and a bottle of water or a granola bar. I FINALLY found a great dupe for my bag here – and it's under $65!
More of my NYFW outfits will be up later this week. Be sure to check out my posts here and here with other looks from last season too!