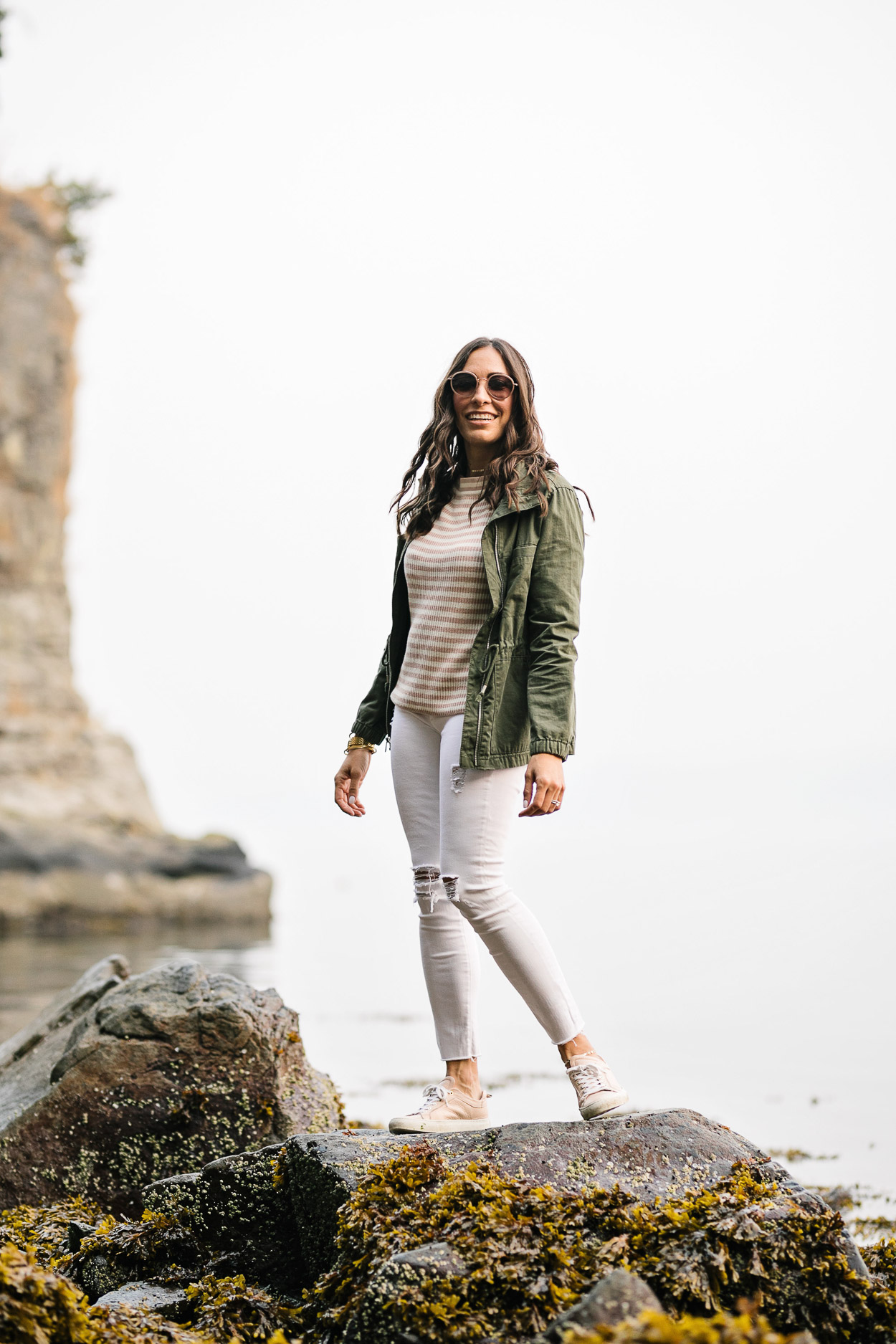 I know… it's been a while. While I haven't ever been the most consistent in posting on the blog, I've definitely fallen off the last 4-6 weeks. But, during these few weeks I took some time to reflect on my blogging journey that started two and a half years ago. And, since I've never celebrated a blogiversary I thought it was time to share some blogging tips I've learned along the way. See – what I tend to share is the fun of getting some free clothes or working with great brands and the glam of NYFW. And, don't get me wrong. Those are the perks! But, being a blogger requires hard work. So, for those looking to get started I'm sharing my insights.
Shop the Post

Sweater: JCrew
Denim: AG Jeans
Sneakers: M Gemi Palestra
Jacket: Old Navy c/o
Bag: Etsy
Sunnies: LOFT
What it's Like to be a Blogger
I consider myself blessed as a blogger. Sure, I'm still considered a "micro-influencer" (anyone with under 50K followers). But, I've already had the opportunity to work with brands like Old Navy, COACH, Three Dots, Free People and more. I'm sent clothes to style that I'd regularly purchase myself and often given an opportunity to test amazing new products.
But, underneath it all I think we all watch Insta Stories and follow as bigger bloggers travel to great places with luxury brands, thinking – "what a dream job." What most people don't know is that it took years for most of those women to get to where they're at now and build a following that makings blogging profitable for them. For better or worse, the blogging (read: Instagram) game is constantly changing, often requiring a change in strategy. So, with that said – here are a few blogging tips I learned if you're considering starting one of your own.
Become a Social Media Expert
As a blogger your goal is to influence and educate an audience on products, new brands, and experiences. To do that, you need exposure to a sizable group of followers. To grow your follower number, use social media to engage on other bloggers posts to drive their followers to your page through your likes and comments. And, target their followers by following them. Some will follow you back.
Test as many channels as possible, including Pinterest, Facebook ads or AdWords campaigns, to brand your blog. Buy apps or tools that will help your blog grow like Tailwind, Planoly, and Iconosquare which you'll open daily for strategy and planning purposes. Sooner than later you'll realize that terms like cost per click, cost per impression, search engine optimization and others will be standard vocabulary. At some point, you might decide you need a Social Media Manager just to help you with this piece of your blog, and for good reason. It can consume you in the car, after work or dinner, and into the evening. But, this subject matter expertise and experience can be valuable. Even if your blog doesn't work out longer term – a marketing position may be in your future.
Learn What you Can About Photography, Photoshop and Lightroom
I don't recall if it was before or after I launched my blog, but I knew quickly that Matt was not going to be an "Instagram Husband". I was totally fine with it. But, in the beginning it was a bit of a struggle because I didn't know any local photographers. If you're set on working with a photographer try posting an ad on Craigslist or searching the hashtag for your geographical area (i.e. #miamiphotographer). I was using an entry level DSLR camera and ended up ordering an affordable tripod online. Little did I know that would be one of the best decisions I made early on because now I have complete control over when I shoot my looks and what pictures I get for the post. Plus, I've learned how to use programs like Photoshop and Lightroom to resize, edit and adjust photos as needed for each post.
Your Free Time will be Limited, But You Decide How Much
All of the things I mentioned above take time to learn and perfect. And, they continue to evolve. So, it's a major time investment to be a blogger and stay on top of the latest trends. What your readers don't see behind each post are the long hours of taking and editing photos, writing the post, finding the exact items you're wearing and building the widgets to link to them, and then optimizing the content so people can find it. You might not expect it, but each post takes on average 3-5 hours. And, many of them are unpaid.
Other bloggers might grow faster. Different girls you know might get the campaigns you want. But, don't let it stress you out or get you down. Ultimately how much time you invest is up to you. Earlier this year, I set a goal to post 3x per week and now I feel bad when I don't. Knowing my goal isn't to be a full-time blogger, I've adjusted my goal to post as much as I can, within reason. There is no number.
The Blogging Tips I Wish Someone Told Me
Of all the blogging tips I got myself, I wish someone would have reminded me when I started that when you have a regular 9-5 job, a family and other obligations you have to constantly evaluate your priorities. It's easy to take the blog too seriously. So, unless you have a commitment to a brand to post on on a certain date, it needs to continue to be fun. I know personally that's when I'm most relatable and my engagement is highest.
While I've been off the radar, I've continued to shoot new content and plan posts, even attending fashion week. Now, I'm re-inspired. I'm ready to bring you a fresher voice and a new look. Stay tuned.