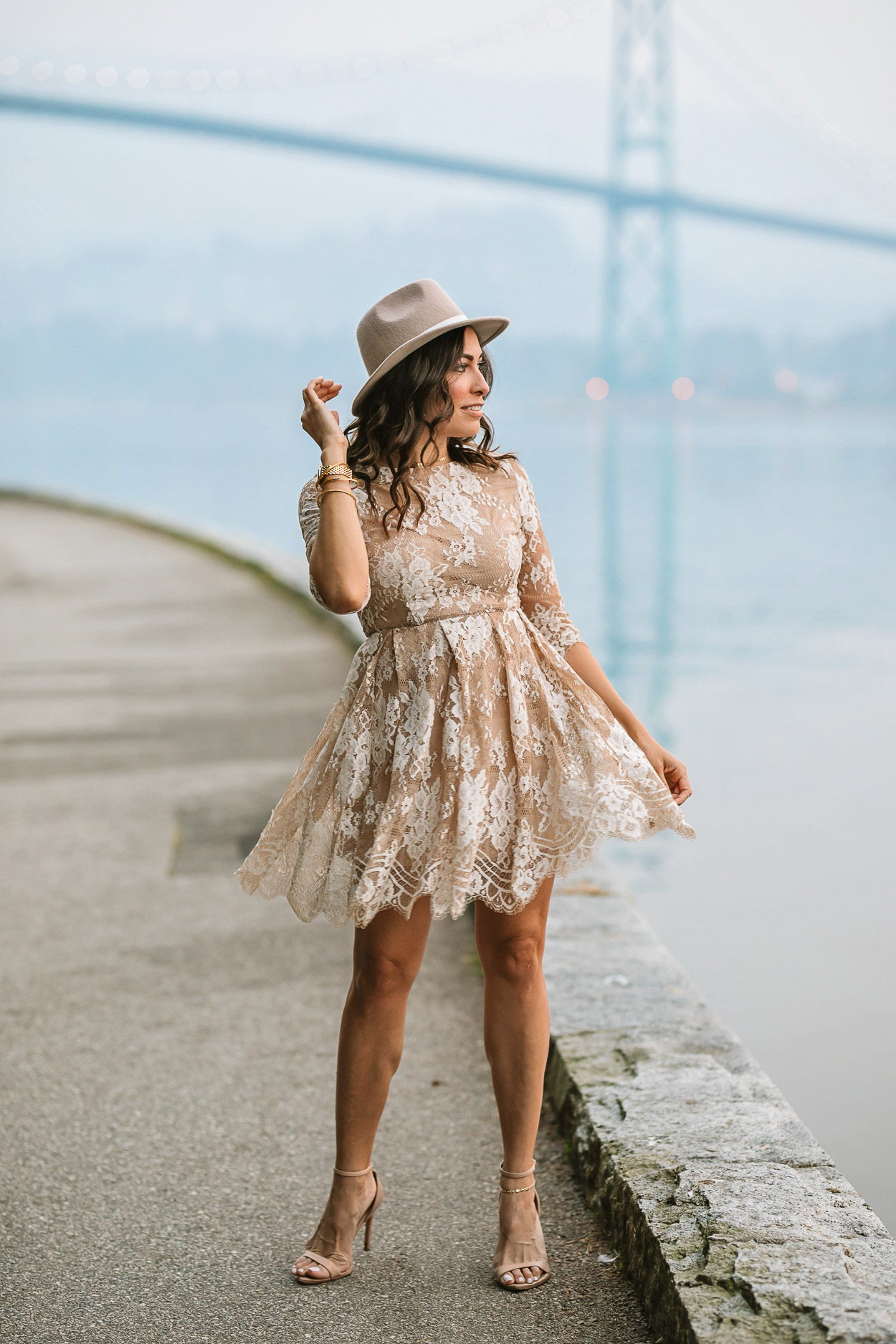 Ohhhh Canada! (Picture me singing the Canadian anthem.) So, prior to coming to Vancouver I'd only been to Ottawa. And while I loved it there, Vancouver was such a different vibe. What a cool city! Matt and I love traveling out of the US and going to Europe. But, it's safe to say that with Canada being so close – we'd come back here in a heartbeat if we only had a long weekend. I was in town for a conference for work. So, we decided to make a little vacay out of it. Matt came up the last day of my work commitments and we jetted up to Whistler for a late 1st anniversary celebration. Before he got here, I had a chance to explore. I'm sharing my top 7 things to do in Vancouver in this post.
Shop the Post

Dress: Chicwish c/o
Sandals: Zara (old, similar here)
Hat: Club Monaco (old, similar here and here)
Bangles: Julie Vos
Things to Do in Vancouver
Since I was in Vancouver for work and we were heading up to Whistler for the weekend, I knew I wouldn't have a ton of time to see all the city had to offer. But, I found that in a day's time I was able to still get to a few really pretty parts of town. Below are my top 7 recommendations of things to do in Vancouver:
Visit Lions Gate Bridge – I'm not normally one who gravitates towards bridges, but the view at this one was just stunning. As you drive through Stanley Park there will be plenty of places to stop and walk down by the water. Or, there's a cute little bench where it would be fun to have a little picnic.
Ride bikes through Stanley Park – I got up at sunrise to shoot these photos with Allison Kuhl here and almost wanted to scrap the shoot just to enjoy the park! While you might not need to get up and go quite that early, I still recommend getting there before the crowds. The park is massive so you could spend a few hours there easily.
Walk along the Seawall – The seawall in Stanley Park is 9 km long! There was something so calming about walking along the water early in the morning.
Stop at Siwash Rock – I'll share more of my visit to this spot in my next Canadian post, but this one is a must-see. The rock is 32 million years old! There's a lookout (or two?) that gives you a nice view. But, if you're already walking along the seawall then this is along the way.
Visit the downtown bars and restaurants – I was just telling one of my best friend's tonight how much I loved downtown Vancouver. As far as restaurants go, I liked The Butcher & Bullock (sports bar and pub). They had the BEST finger foods and apps at an event I attended. For dinner, we ate at Joey Burrards twice we loved it SO MUCH. The menu is seriously good. You have to get the yam fries, lettuce wraps and the Yellowfin Tuna salad (my personal fave).
Watch the seaplanes take off and land at the harbor – Matt and I literally spent an hour or so just walking along the harbor, watching the seaplanes. This was Matt's favorite
Take a tour at Granville Island Brewery – If we'd had time, this is something I would have really liked to do. As much as I love my wine, I also love beer. The brewery is actually on a small island (like the name implies). Aside from the brewery, there are a bunch of other things to do there too.
The morning I went to Stanley Park I wore this cute lace dress from Chicwish and my favorite hat (similar here and here) I bring when I travel. The weather can be chilly in the morning. But, it warms up this time of year fairly quickly.
Hopefully you have a chance to see these sights if you visit Vancouver! If you've been to the city before and have a different recommendation be sure to share it in the comments below.
*Photos by Allison Kuhl.