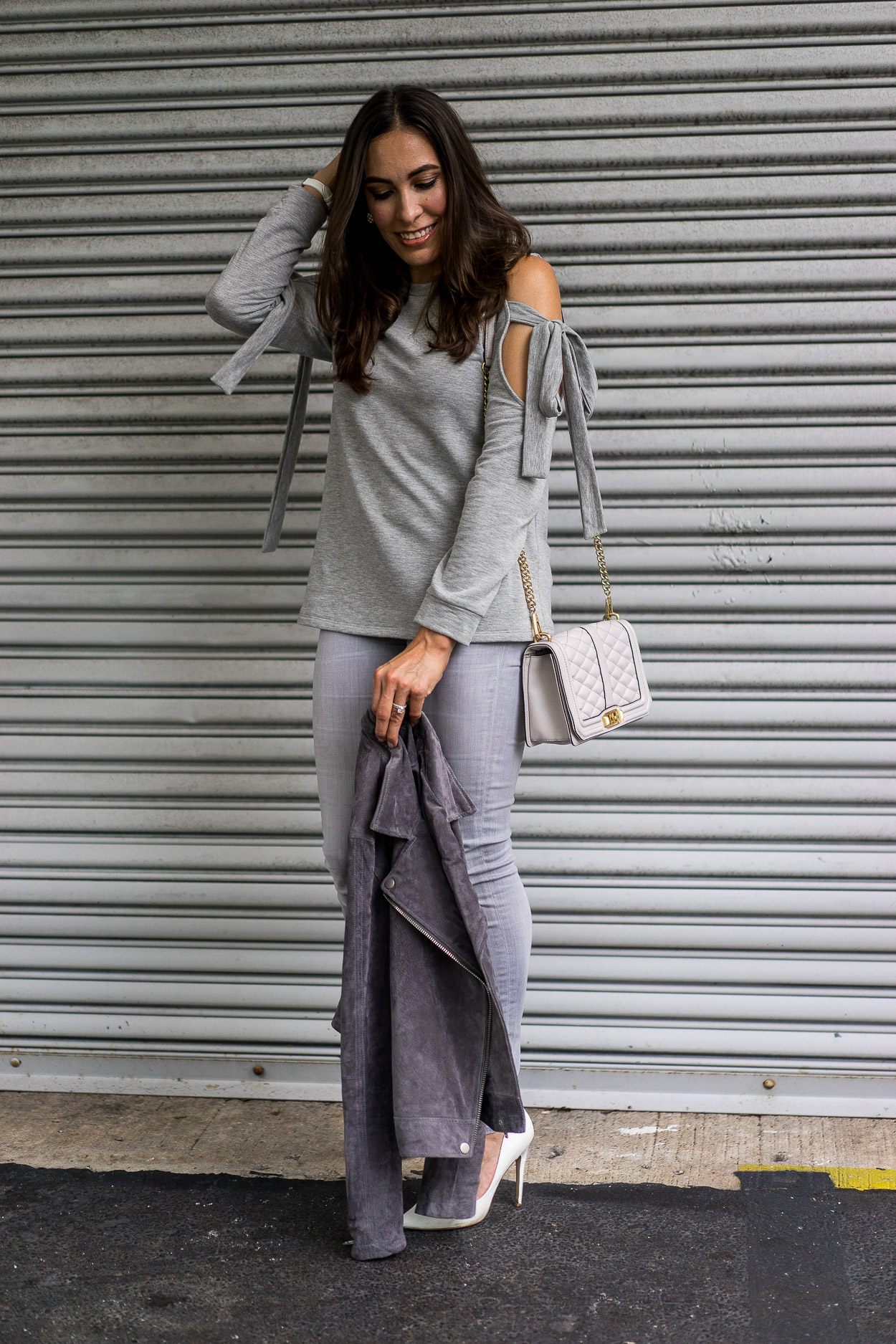 Thank goodness it's a new week! I was happy to put this past week behind us. After coming back from a work trip, I came down with a nasty cold that lingered all week. Aside from dinner with the girls one night, I just propped up on the couch in the evening and of course – shopped the Nordstrom Anniversary sale at night! I know it's a little early to be talking about what I'm looking forward to wearing in Fall, but you guys need to know about this cozy grey sweater! Some other bloggers posted it as well and were hating on the grey color – but I absolutely love it. Styled with my new Blank NYC suede jacket (run and grab one NOW!) it's the perfect Fall outfit.
Shop the Post

Sweater: Pleione
Jacket: Blank NYC
Denim: Citizens of Humanity (old, love these, these and these – all ON SALE!)
Shoes: Sam Edelman
Bag: Rebecca Minkoff (also love this one – ON SALE!)
Cozy Grey Sweater
How is it already August? I wish I could say that meant Fall is right around the corner for us in South Florida, but that's far from the truth. That doesn't mean I'm not already stocking up on my fave sweaters and booties for the season though, because we have two trips back to Chicago already planned and this weekend we're heading to Canada. I have a work conference and then we're taking a few days to see Vancouver and Whistler. Please, please send me all of your recommendations!
I'm packing this tie sleeve, cold shoulder grey sweater that I picked up during the Nordstrom Anniversary sale. You're probably SO tired of hearing about that sale, but there are still some great deals you can get through today! If you don't like my grey sweater, it comes in 5 other colors. Or, grab a pair of grey denim that you'll live in all season or this cute pair of booties I have been posting over on my Instagram! My suede jacket is not available in grey, but it's still in stock in all sizes in the Spice color which is a really pretty tan.
You can find all my picks from the Nordstrom sale here! Have a great rest of your weekend!