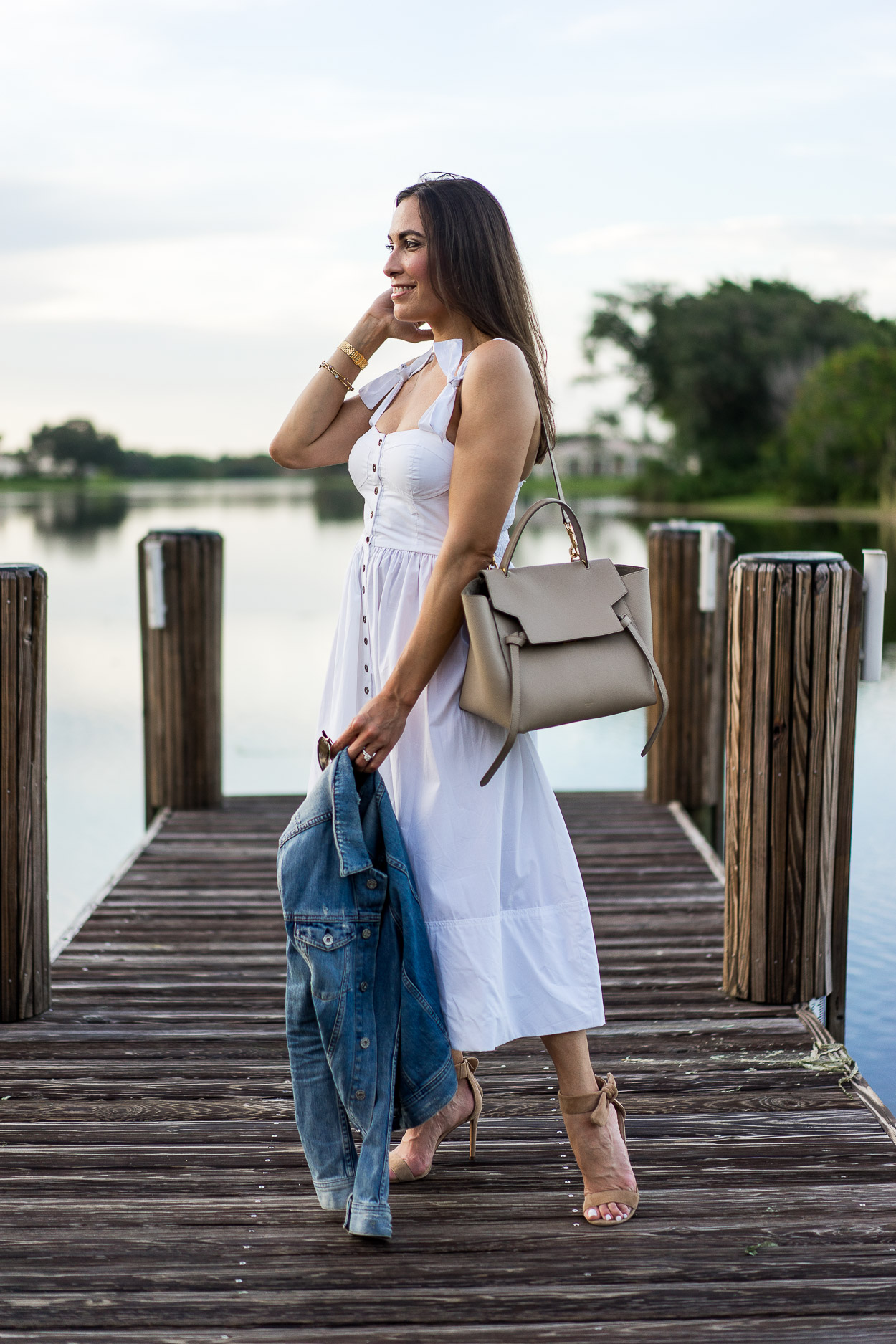 With all the Fall and Winter finds in the Nordstrom Anniversary sale, I swear it feels like I should be breaking out my sweaters and OTK boots. But, in South Florida we're still very much in a full-on Summer heat hitting temps near 100 degrees. So, wearing something lightweight is critical. As a result, my weekend style consists mostly of cutoff shorts and simple tanks. Most days, I go right for a pretty Summer white dress. This Chicwish dress grabbed my attention with the bow detail on the sleeves. Cute, right?! In an otherwise classic LWD, it stood out. Plus, at under $60 – how could I resist?
Shop the Post

Dress: Chicwish c/o (also available in gingham)
Shoes: Banana Republic (similar here and here)
Jacket: AG Jeans (similar here)
Bag: Celine (also here and less expensive version here)
Bangles: Julie Vos
Sunnies: Warby Parker
Classic Style – Summer White Dress
Have you ever seen the movie The Banger Sisters? There's a part that my mom and I always quote where Susan Sarandon says to Goldie Hawn, "Everything in my closet is… beige!" Edit that to white and it's the story of my life (and my mother's!). Give me a girly LWD and I'll "add to cart" nearly every time (within reason). For the hottest months of the year, I dedicate a portion of my closet to what I call the Summer white dress and it becomes my uniform.
I've talked about the concept of having a daily uniform (see this post) and the more I think about it, the more I love it. Designers like Michael Kors, Tom Ford and Carolina Herrera gush about how easy it makes getting dressed which is ultimately what we all want, right? Instead of spending time staring at the clothes in your closet, you just grab it and go. My uniform just might be a white dress.
But, even if a LWD isn't your thing a little Summer dress still can be. Right now gingham seems to be the everygirl's daily uniform. My dress comes in 3-4 other colors, including black gingham and blue gingham. It's just as cute in a print as it is in white.
What would be your uniform?