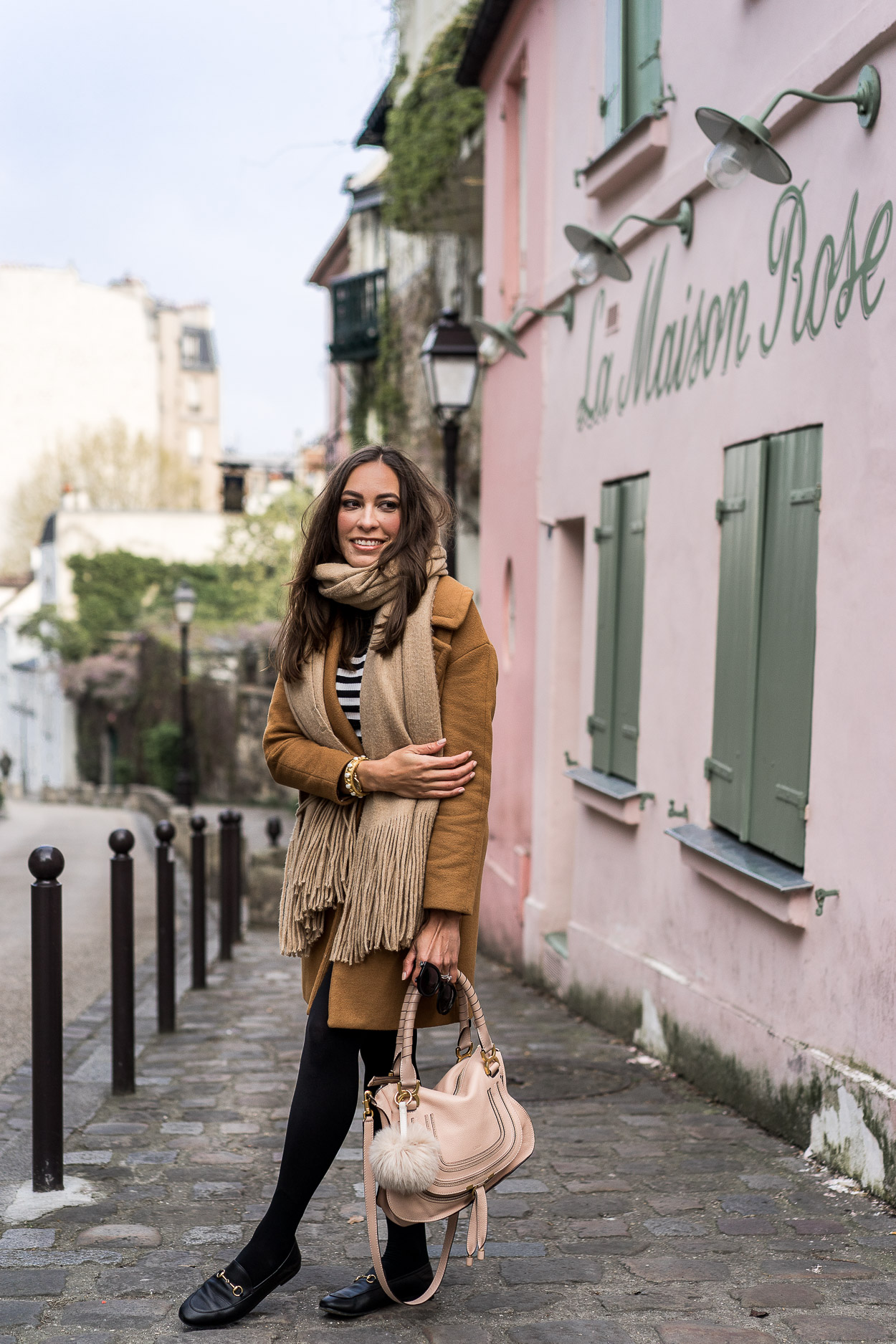 Paris may be the city of love, but it's a great vacation spot for just about anyone, including families and those traveling with friends. After we booked our flights and found our stunning Parisian apartment to celebrate my mom's birthday and retirement, the planning began. With 20 arrondissements (districts), you have to know that you simply can't see it all. So, you prioritize. With it's overwhelming charm and the cobblestone streets, we knew we wanted to spend some time in the Montmartre. This post will cover the best things to do in Montmartre. If you're looking for recommendations on what to see, where to shop, and where to eat in Montmartre you've come to the right place!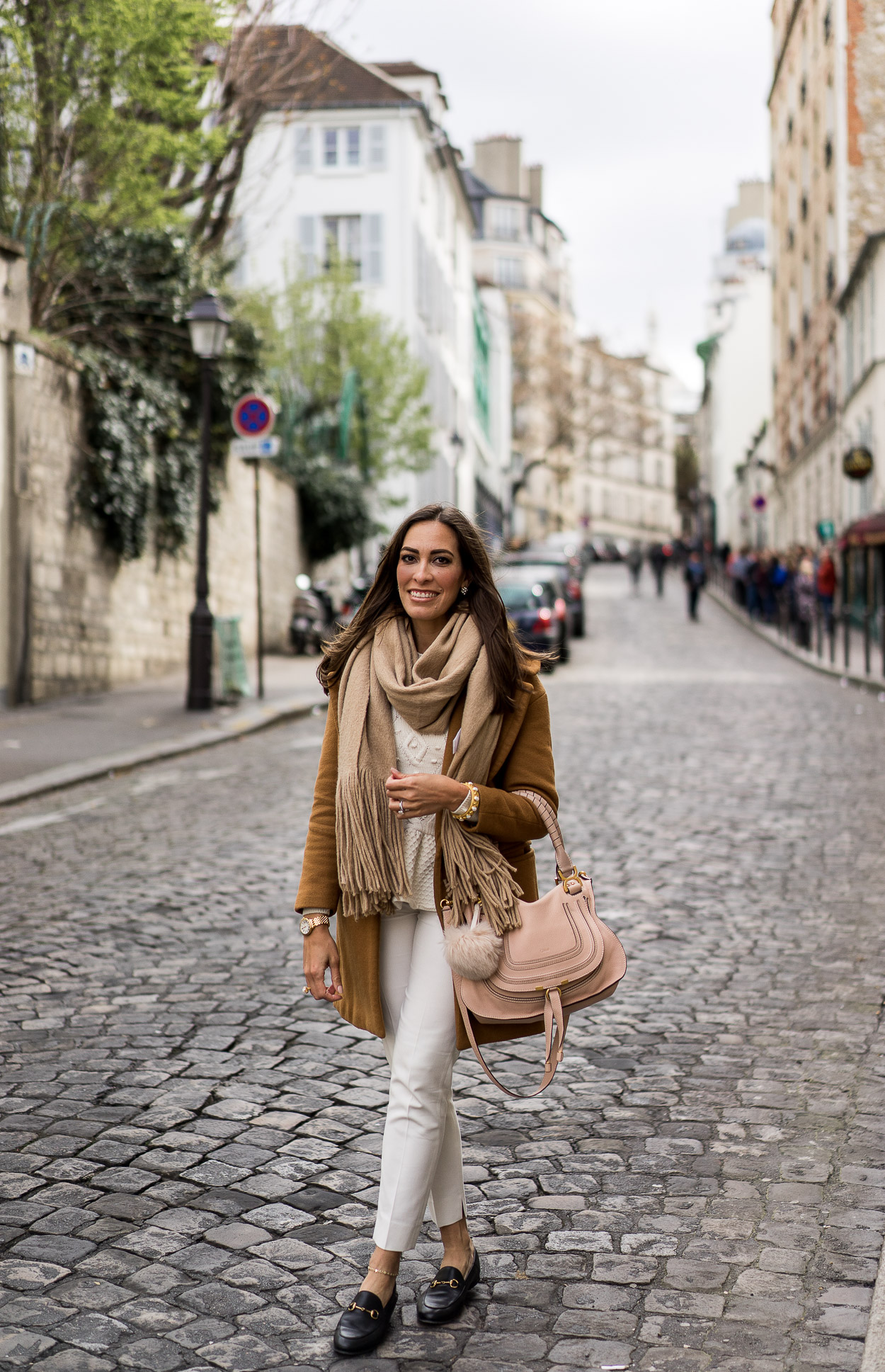 Things to do in Montmartre
I told my mom while we were traveling in Paris that if Matt and I lived there, it would be in the Montmartre. We love to go walking and with all the famous staircases in this area, it's a great place to wander and just get lost. I'm pretty sure when I was in my graduate program (10+ years ago) that I stayed in the Montmartre. At that time – it wasn't very safe. But, now it's a thriving, trendy neighborhood! With secret gardens and a mural with 'I Love You' written in more than 300 languages, this is a place for some modern romance.
Picking the best things to do in the arrondissement was a challenge, but I've narrowed it down to a handful of activities below.
Take the Secret Food Tour
In almost every European city we visit, we like to take a food tour. There's just no better way to be immersed in the culture than to see and taste the meats and cheeses, pastries and breads, and of course – the wine! I stumbled upon the Secret Food Tours group online and booked one of the daytime itineraries.
The food tour starts in the heart of the Montmartre at Abbesses Metro Station, which is actually one of the stations that still maintains it's old world look and feel (pic below). This metro stop is just off of Rue des Abbesses, a street with some of the best restaurants and a short walk to the Sacre Coeur. If you take the food tour, go early to explore the neighborhood like we did.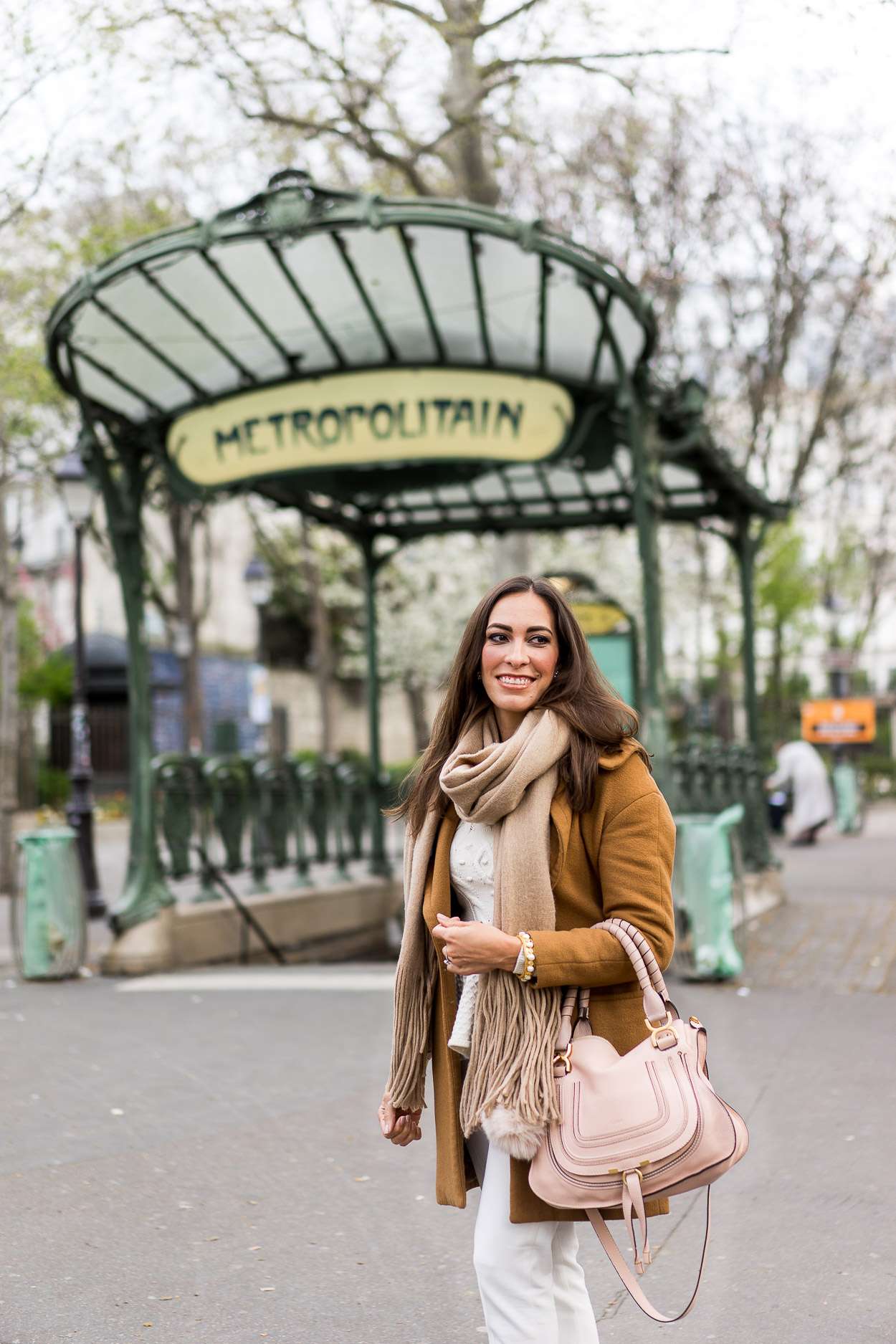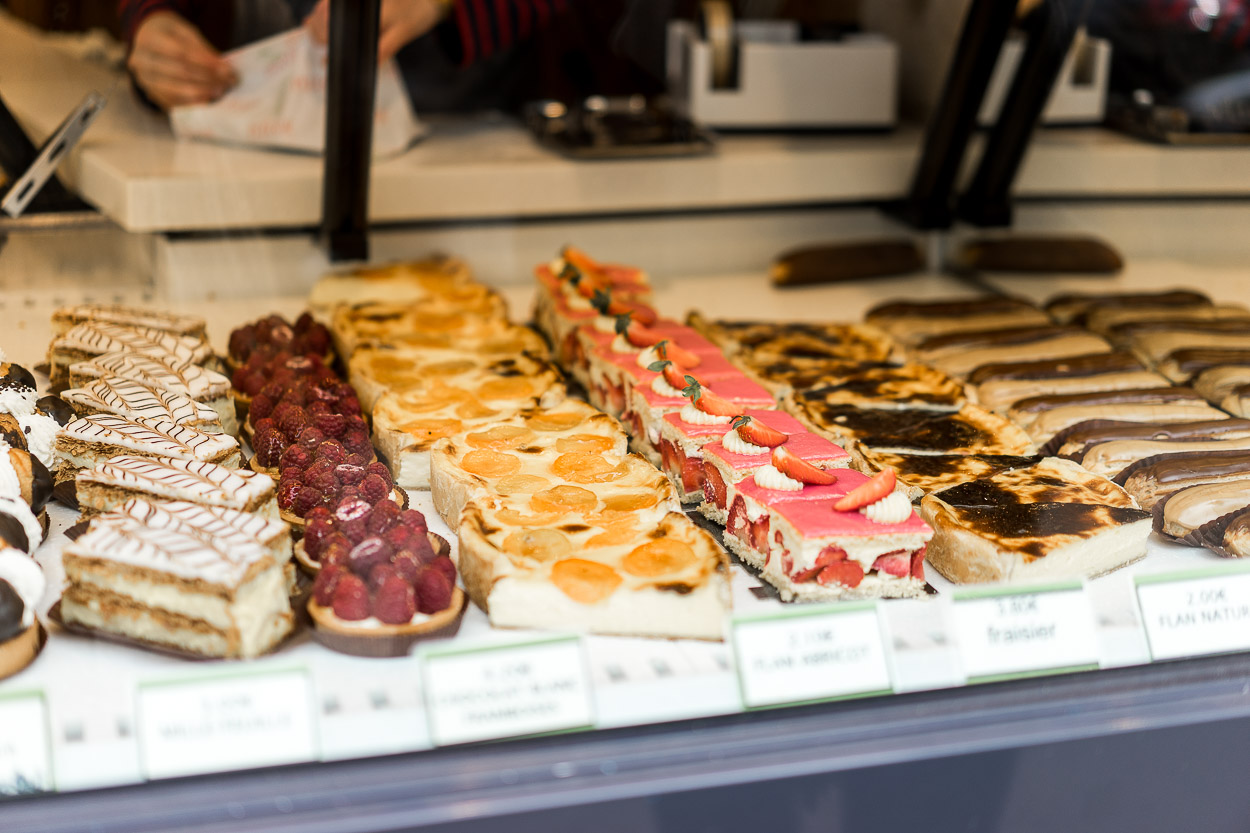 I won't give you all the details and spoil the fun, but on the tour you'll visit a fromagerie (specialty cheese store – my favorite was the truffle infused), followed by a boulangerie with the most picturesque pastries and mouth-watering breads. Our tour guide started our day with a blue cheese bacon bread (so delicious!). In 2016, this shop was voted to have the best baguette in Paris.
From there, you head to a chocolate shop with macarons rival that of Angelina and Laduree. Be sure to purchase here if you don't plan on coming back to the neighborhood again! Then, the tour will stop at butcher and a creperie before heading back to have a picnic at the tours local office in the Pigalle area.
Don't make a mistake and eat before you go thinking you'll only be tasting a few items! You essentially get a full meal and then some. You'll leave with a full belly and a happy heart.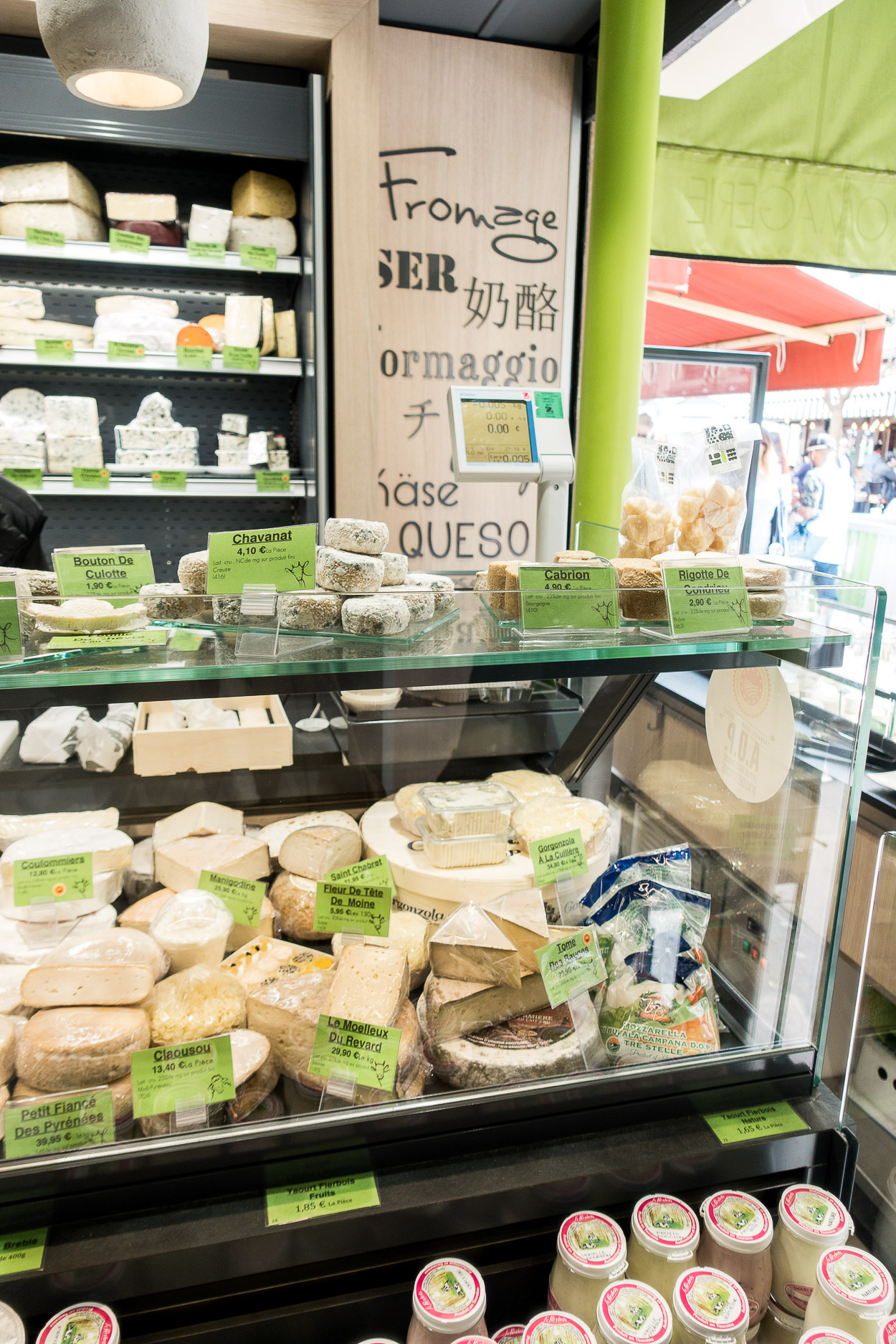 Find the Popular Montmartre Stairs
The Montmartre is an area known for it's many stairs. Sure – you can Uber your way around or take a taxi. But, Parisians will be walking and honestly, you'll miss so many beautiful parts of the city if you don't too. If you go from the food tour to the Sacre Coeur, it's a 10-15 minute walk at most. You'll head North and take two different sets of stairs at Rue Drevet and Rue du Calvaire. That puts you right in Place du Tertre which is a cafe-lined square with lots of shopping for tourists around the corner from the Sacre Coeur church. Be careful here! It's typically very busy unless you go at off hours and there are pick pockets.
The picture above was taken at Rue du Mont Cenis, which was a favorite staircase of mine, and though I didn't get there, I also love the stairs at Rue Lamarck by Le Refuge Cafe.
Visit the Sacre Coeur Church
The crown jewel of the best things to do in Montmartre is to visit the Sacre Coeur church (also known as the Basilica of the Sacred Heart of Paris). There's almost always a line to get inside. Don't worry though. It moves quickly. While the inside is stunning with its stained glass and mosaic murals, I highly recommend that you take the trek up the 300 steps to the dome. It's the highest point in the city and gives a sprawling view of Paris. We visited in the middle of the day, but if you go near closing it will be quieter and the views near sunset are spectacular.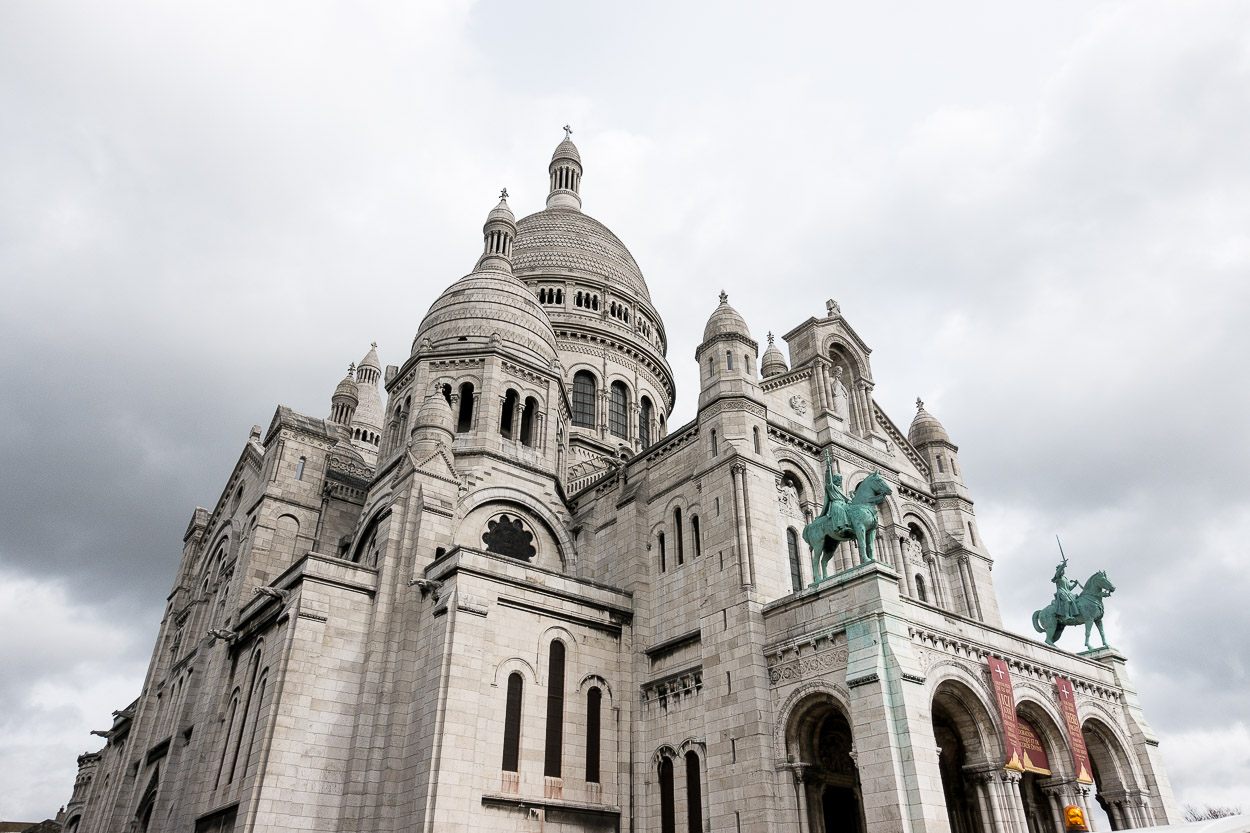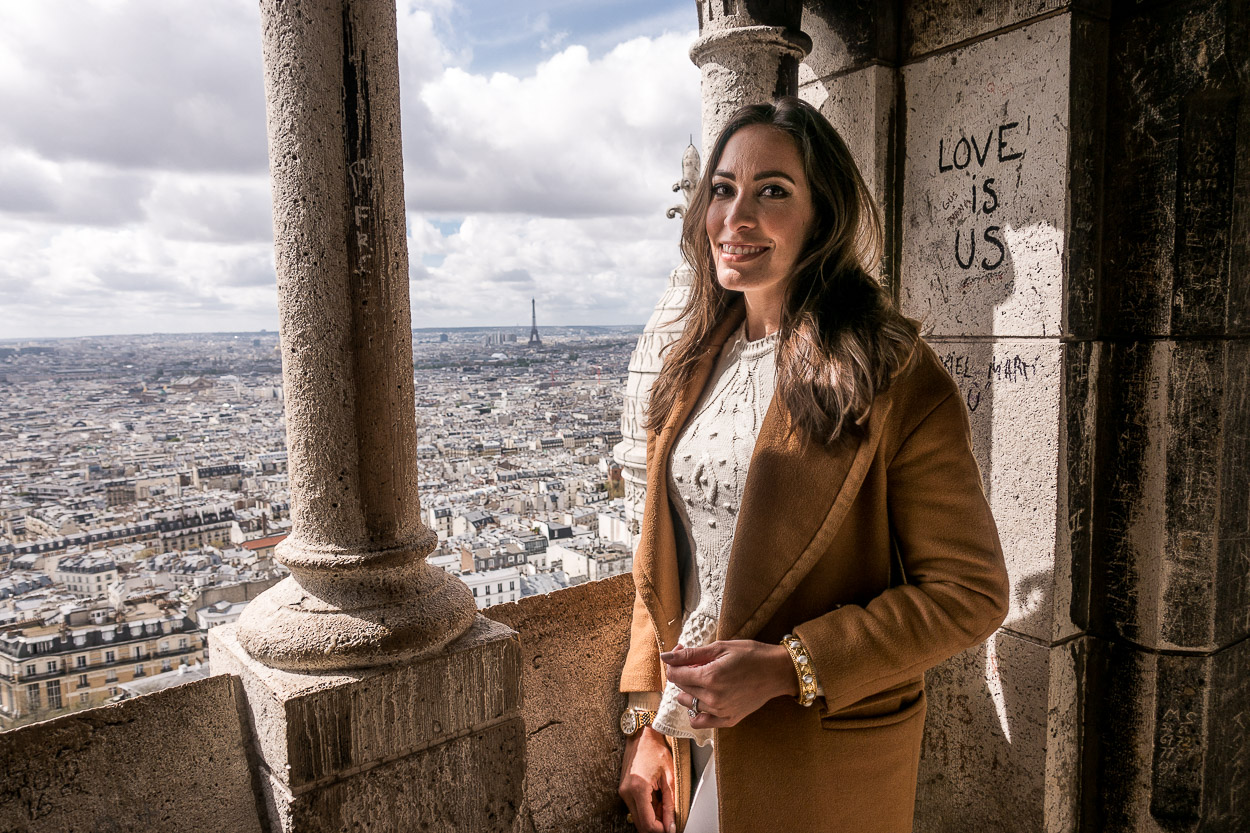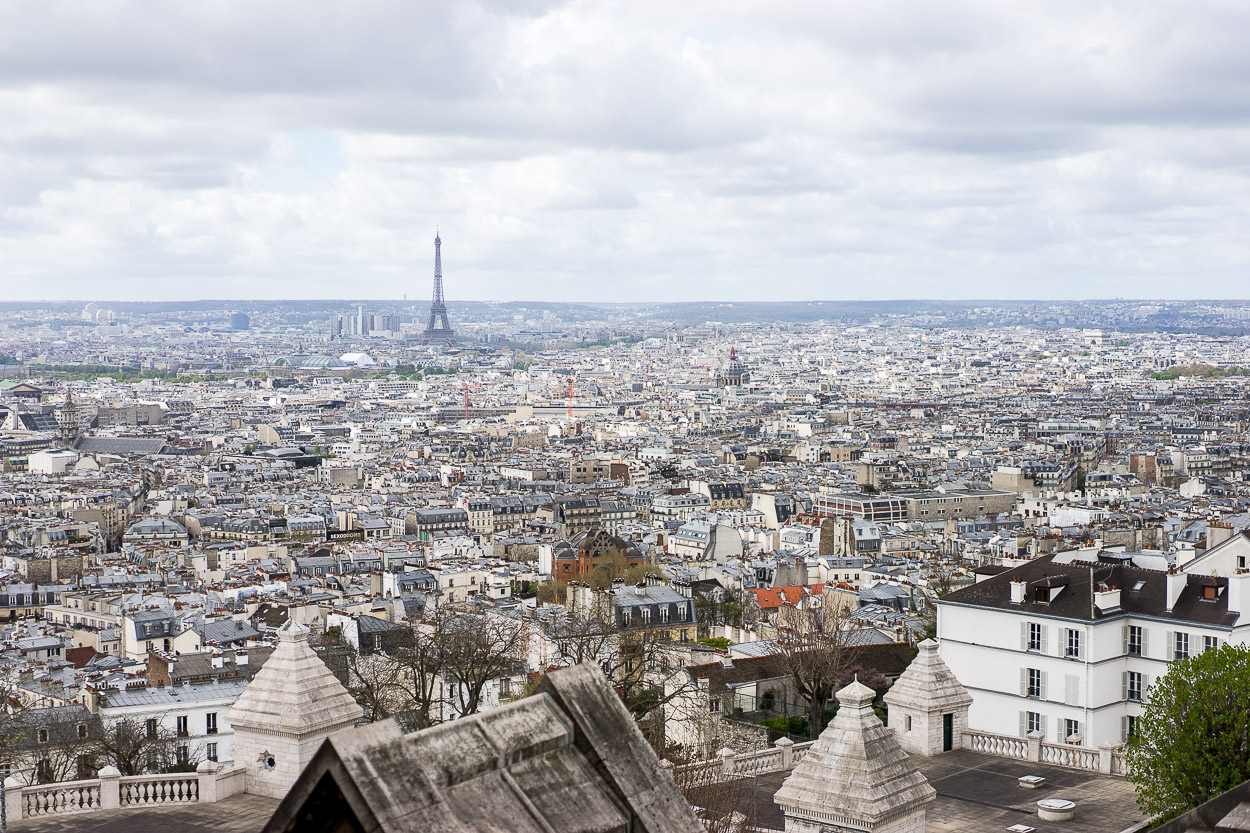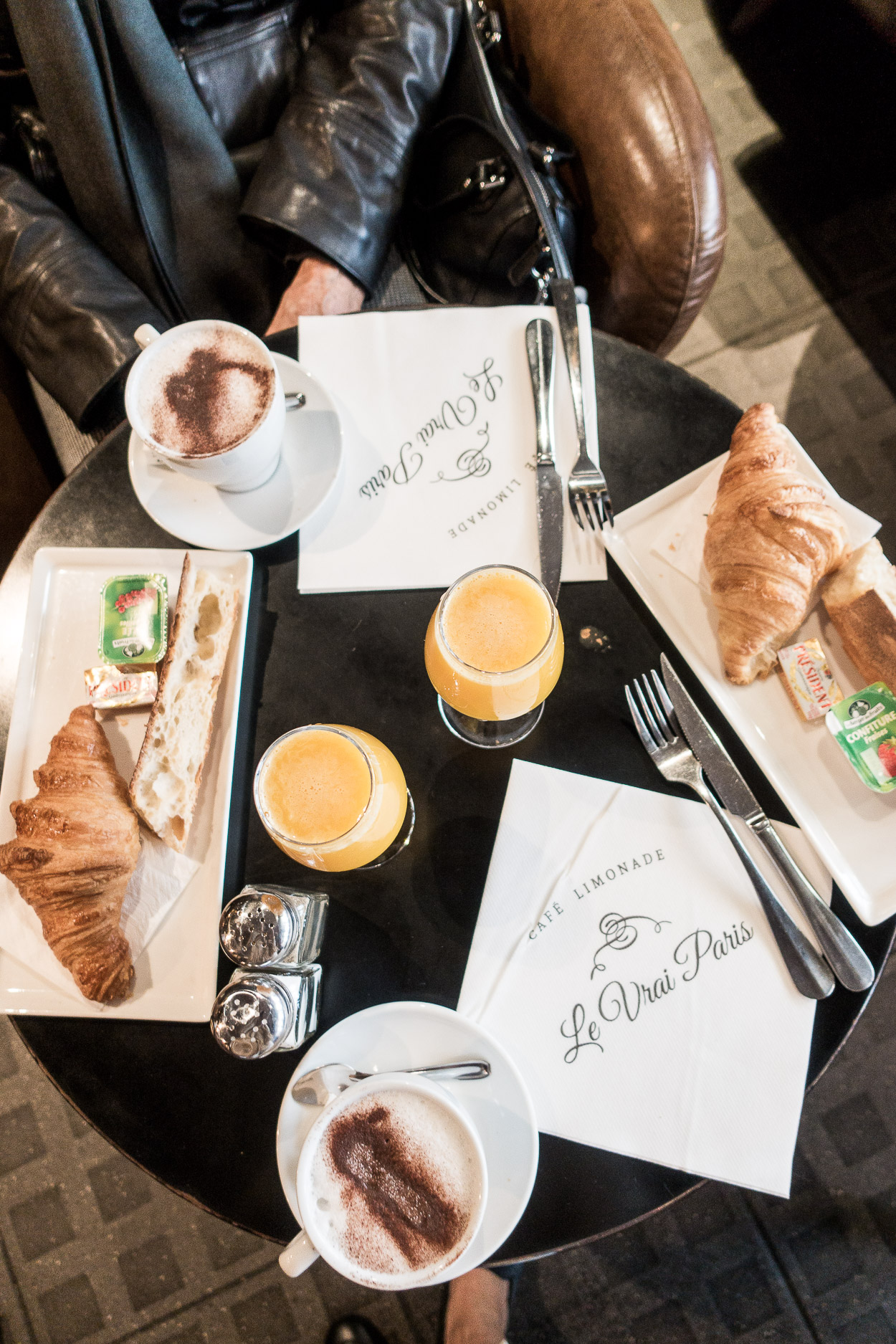 Best Places to Eat in Montmartre
Where to Eat Breakfast
Since I made the mistake of thinking we reserved the early morning food tour, my mom and I had four hours before our scheduled meeting time. We chose to get breakfast at Le Vrai Paris, right of Rue des Abbesses (see pic above). Honestly, the noises coming out of my mouth while I was indulging in hot chocolate and croissants verged on inappropriate. It was THAT good. It also came with two eggs, bacon, and yogurt. There was so much good that was all so tasty, but I tried not to gorge myself too much with the food tour later on. I'd be a regular here if I lived in Paris.
The Best Lunch Spots
No doubt, one of the most famous cafe's in the Montmartre is La Maison Rose. With it's pink walls and green windows, this restaurant has been featured in many a tourist (and bloggers) photos, like mine here below. We didn't get a chance to eat here, but I've heard the food is decent. You have to swing by to get the obligatory photo. So, grab a coffee and a sandwich while you're at it.
For lunch, try Le Coq Rico. It's a quaint French bistro that, as my mother's close friend put it is, "nothing but chicken dishes, but a fabulous chef." For lunch you might be able to get away without a reservation. But, definitely make one in advance if you'd like to come for dinner (that goes for just about any place in Paris these days).
Another great lunch alternative is Le Consulat on Rue Norvins. This restaurant is just up the street from La Maison Rose. However, because it's just on the outskirts of the Sacre Coeur shopping area it can be a little touristy. Try to get a table outside and make it an experience. The cobblestone streets and small square right in front of the bistro are a well-photographed area. So, enjoy the scenery and people watching while you dine.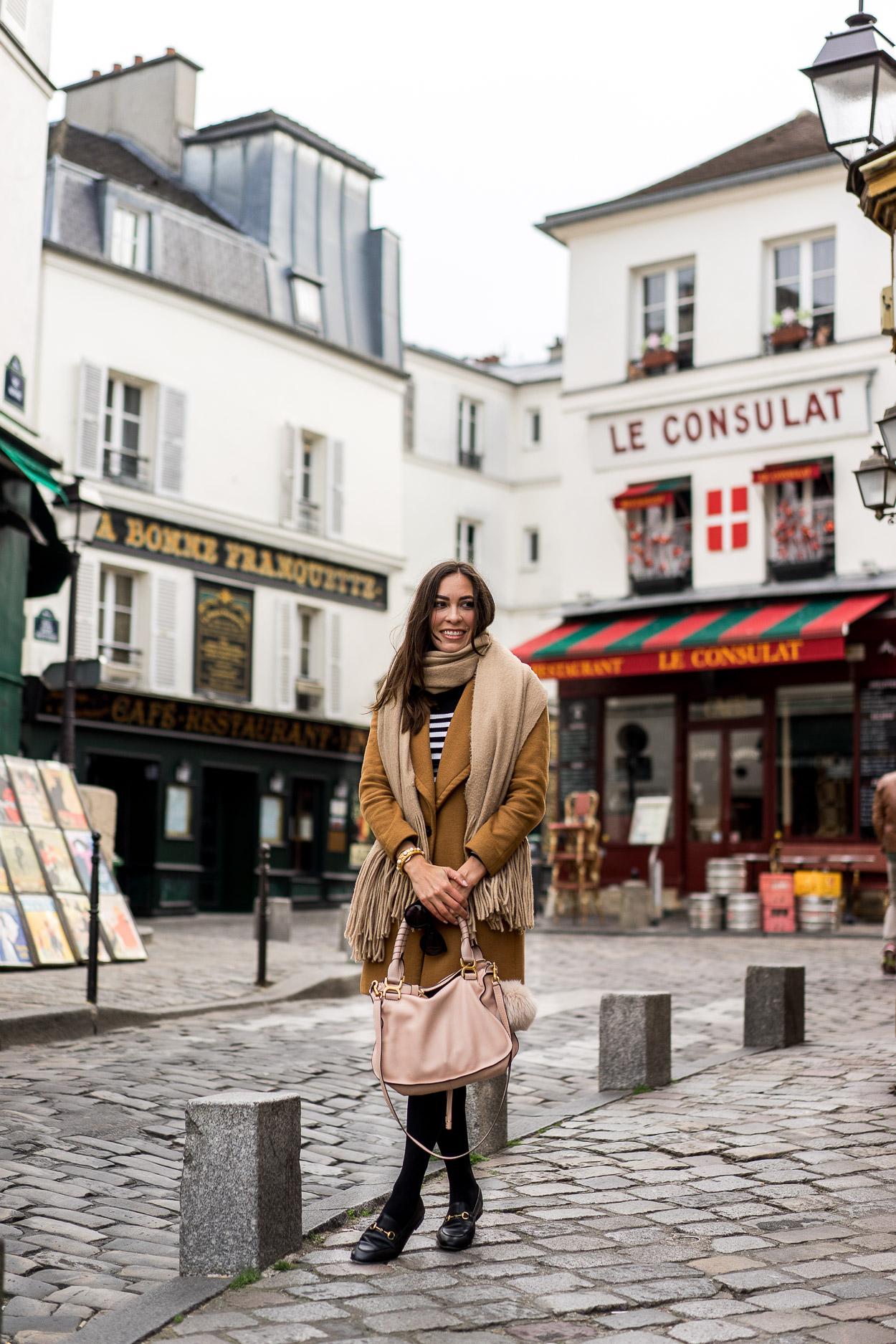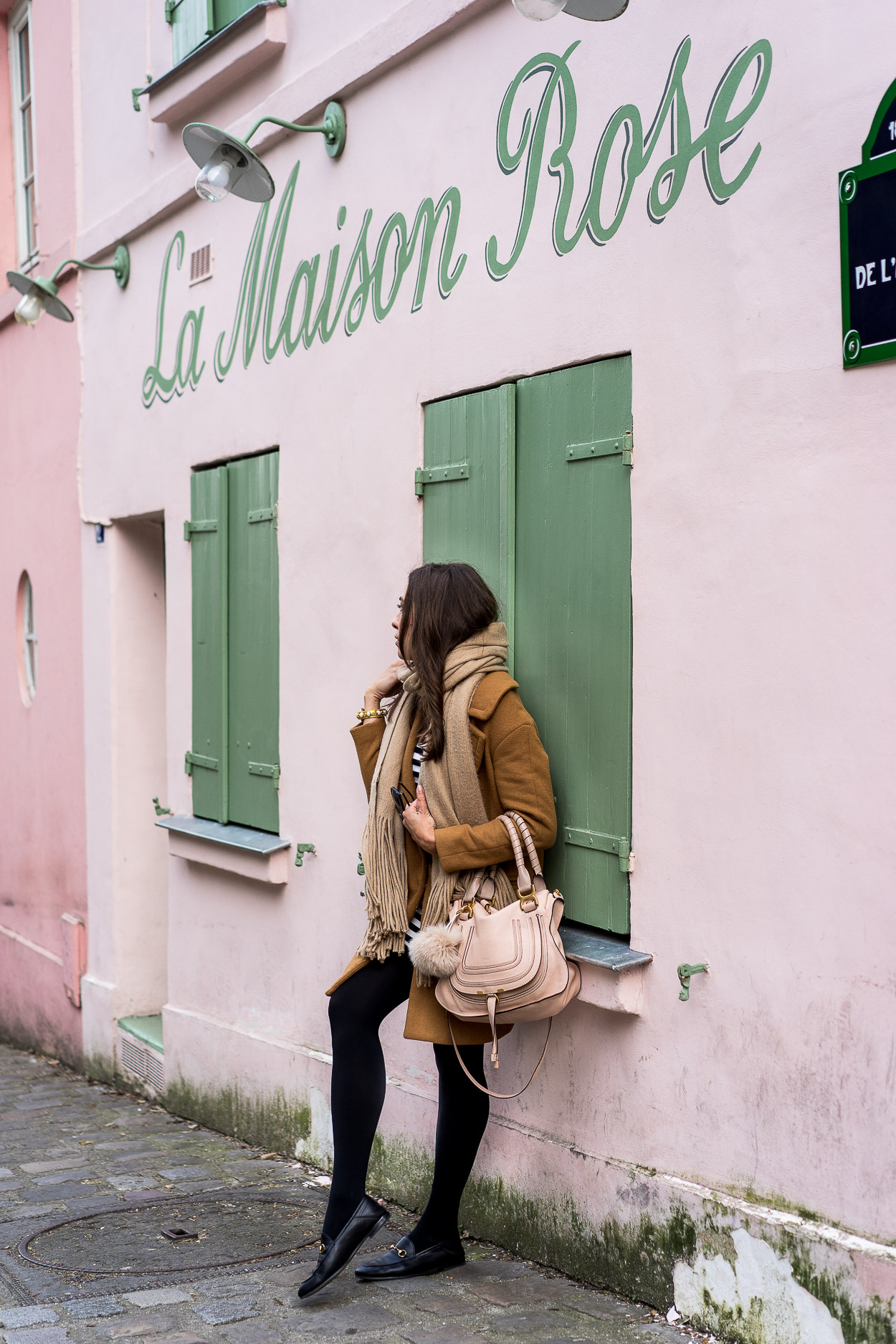 The Best of Montmartre Shopping
It's true that I can shop anywhere, but it's especially true when it comes to Montmartre shopping. For starters, pop in to Caudalie on Rue des Abbesses. Since they're a French beauty brand, they understand good skincare. And, it's nearly half the cost it is in the US. Stock up! Plus, the girls at the store will give you lots of free samples to try different products. You can't go wrong.
From there, hop over to Sandro (also on Rue des Abbesses). To me, Sandro is literally the definition of French girl chic. Again, the price difference from the US is anywhere from 30-50%. So, grab your favorite pieces and don't look back. Plus, you get the VAT tax return of 12% as well! It's the gift that keeps on giving.
Lastly, any trip wouldn't be complete without a killer souvenir. I recommend stopping by Gallerie Arts-Tableaux on Rue de Chevalier de la Barre. On my first trip to Paris ten years ago I stopped in here after visiting the Sacre Coeur and bought a small oil painting that's now framed in our master bathroom. This trip I bought another one that's slightly larger to add to the collection. They're not super expensive (depends on the size you buy – mine was $30 euro). They work with mostly local artists, so you'll get something completely unique to remind you of your time in Paris and the Montmartre.
Let's Be Friends!
Are we friends yet on Instagram!? Send me a message with any questions you have on the suggestions I've made for things to do in Montmartre! You can also SHOP my looks below or through LiketoKnowIt.
Outfit 1:

Outfit 2: