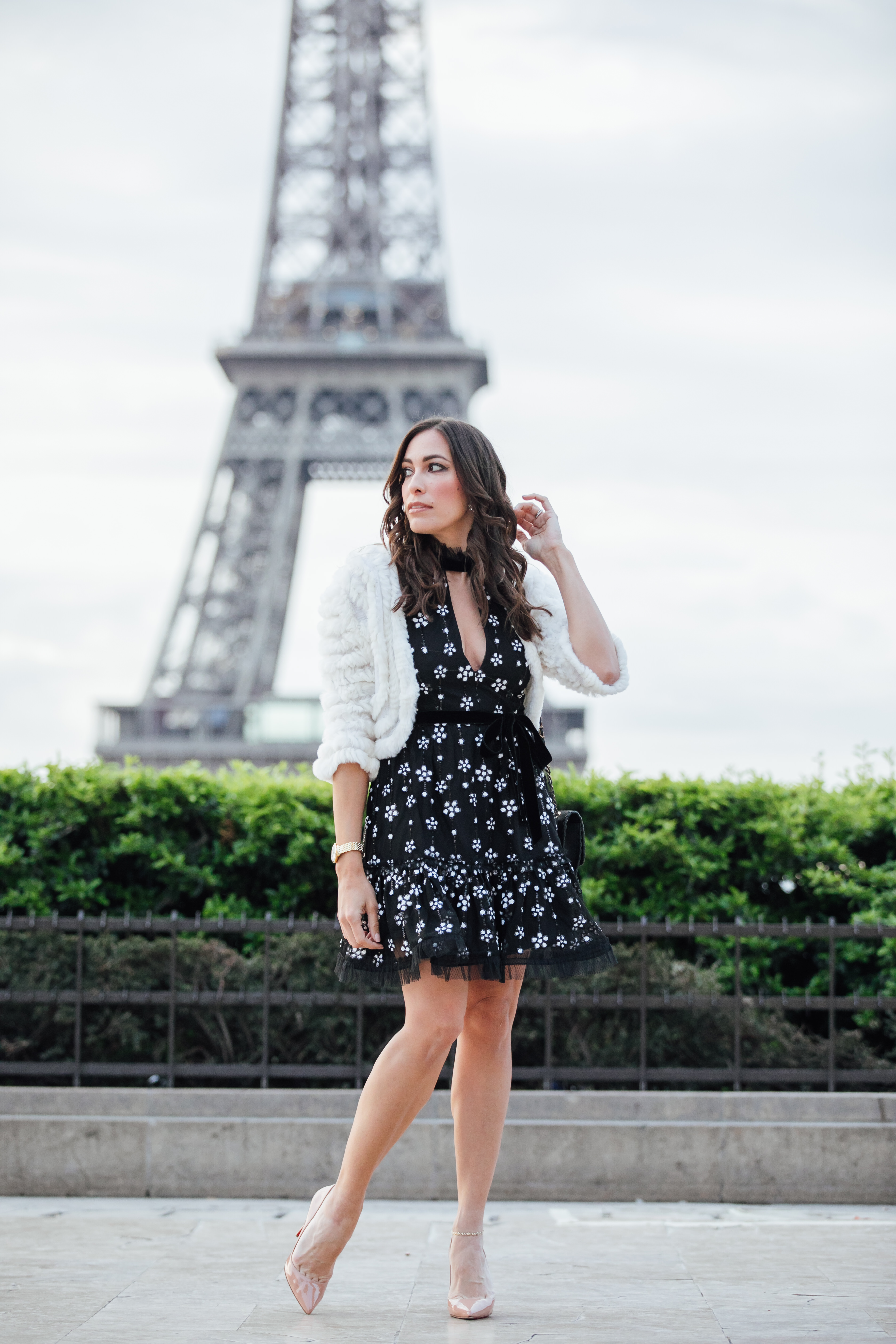 So, to start this post I just want to acknowledge that I've been inconsistent with blogging lately and I'm so sorry. After my beautiful trip to Paris with my mom, I got sick for about a week and a half. And now, I'm traveling for work! I promise that I have A TON of high-quality content and I can't wait to share it all with you. Today I'm thrilled to be sharing my top 5 tips for dressing like a French woman. When I was planning my outfits for Paris, I was looking for brands that showcased the natural elegance and flawless execution that Parisians manage with every outfit. Paris fashion and style is chic and effortless. Alexis dresses are exactly that. For my first look, this dress spoke for itself and I paired it with classic pieces to do like the Parisians do.
Shop the Post

Dress: Alexis (maxi version here, also love this one, this one and this one)
Fur Shrug: BCBG
Pumps: Christian Louboutin (similar less expensive here)
Bag: Chanel (similar here, less expensive options here and here)
Eye Makeup: Make Up For Ever
Lips: Hourglass Girl Lip Stylo (in Achiever)
Mascara: Charlotte Tilbury
An Addiction to Paris Fashion
I have a confession to make… I've bitten that Francophile bug. All it took was a full week in Paris, drinking entirely too much hot chocolate, indulging on one too many pastries, and living like a local in our picturesque apartment with Paris Perfect. Now, all I can think about is how to emulate that cool girl style that's defined by Paris fashion.
In learning how to dress like a Parisian, there are a handful of tricks I've learned.
Top 5 tips – How to Dress like a French Woman:
Pick One Statement Piece
Plain and simple – Parisians never overdo it. Whether it's your dress, your bag or your shoes – just pick one item that the rest of your outfit centers around. Alexis dresses are an easy way to look chic and timeless because they're well cut and tailored. The sequined dress I'm wearing here is a classic example of glamour and elegance in one look. I also love this white dress because it gives you a clean palette where you can then wear a fabulous shoe or a brightly colored bag.
Splurge on the Classics
Although it's gotten more commonplace to see women with a Chanel bag on their arm or a pair of Louboutins on their feet, they're absolutely everywhere in Paris. Why? Because Parisians know that less is more and you'll wear a classic piece 10x more than a trendy one.
All Neutral All the Time
Of course, this is my favorite rule of Paris fashion. By nature, I'm a neutral lover – just like Parisian women. Give them white, grey, camel, navy or black in their closet and they'll build an enviable wardrobe that never makes you think twice about a pop of color. We walked an average of 5-6 miles a day while in Paris and I honestly can't recall seeing anyone in over-the-top prints or loud outfits. And, it makes sense. The more neutrals you have, the more mixing and matching you can do.
The Lower the Heel – The Better
French women favor comfort and Paris is a walking city. So, a kitten heel is the go-to shoe of choice, followed by classic loafers or a great sneaker. It's safe to say I'm not following the rule with these towering Louboutins in my outfit, but my Gucci loafers were on repeat while in Paris. They were an investment (see 'Splurge on the Classics' above), but they barely leave my feet these days. These slides by Jeffrey Campbell are also a fabulous choice for the everyday French lady, as are these classic ballerina flats.
It's All About that Confidence!
Of all the (understated) rules of Paris fashion, confidence is key! French women are self-assured and have a real conviction about their fashion sense. They really don't seem to embrace the concept of "dressing down" and it's a rare occasion they aren't put together even when it's just for a quick errand.
These tips and tricks are just a few of the unwritten rules of Paris fashion. But, I think they're ones I can live by! Which do you identify with the most?
*Photos by: Gabi Alves Photography