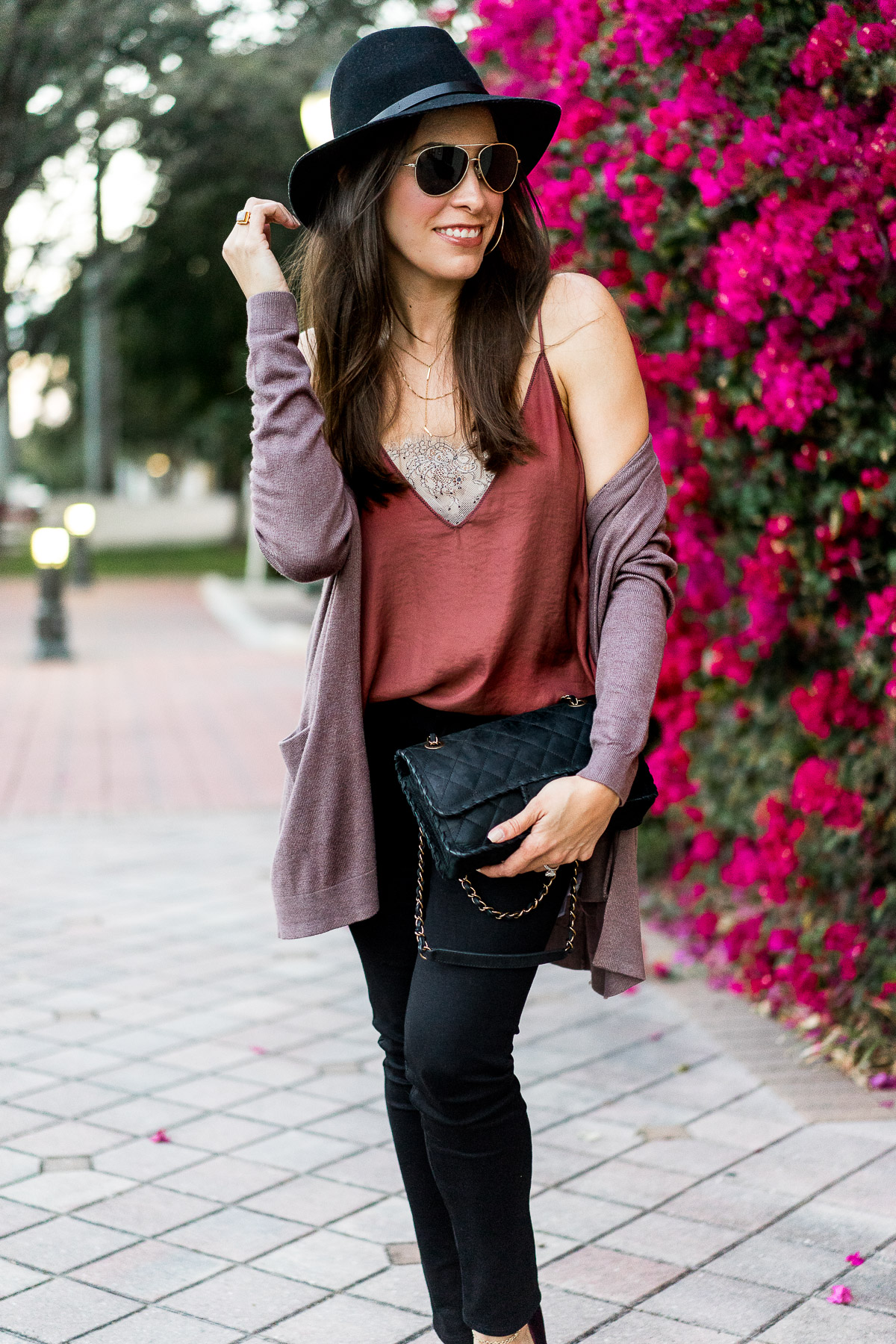 I'm not really a cami girl. I know for a ton of girls it's all they have in their closets and they layer everyday. But, I just never identified with that because I can't wear them to work and I normally try to multi-purpose most things I purchase. Until now. Enter the Free People Deep V Bandeau Cami. If you're on Instagram, then you've seen this lace cami. It was everywhere over the holidays and I missed my opportunity to buy it because it sold out in nearly every color. Well… IT'S BACK! And, I'm here to urge you to buy it now before it's gone again. I grabbed the spice and black colors since they will go well with lots of things already in my closet. This cozy cardigan from Old Navy will go well with both of them too. If you missed my last post with Old Navy, be sure to check it out. Their Spring collection is too cute!
Shop the Post

Cami: Free People (also love the black version)
Cardigan: Old Navy (also love this one and this one)
Denim: AG Jeans Leggings
Pumps: Sam Edelman
Necklace: Jennifer Zeuner (old, love this one and this one)
Bag: Chanel (similar here and less expensive version here)
Hat: Rag & Bone
Lipgloss: Hourglass GIRL Lip Stylo
Layering for Spring – Styling a Cult Favorite Cami
I remember the first time I saw this acclaimed Free People Deep V Bandeau cami. It was on a blogger whose style I absolutely love and so I did what any normal person would do. I stalked her blog until she posted it. By that time, it was popping up on other bloggers feeds on Instagram and a cult favorite was born. And, now that I have it I can tell you why you need it too.
Firstly, this cami comes in A TON of colors – eight to be exact. Secondly, the top itself is oversized but the lace bandeau is a bit more fitted. It's very flattering (but, word to the wise – size down!). So, the top is flowy bohemian perfection. It looks great just slightly tucked into some distressed denim or with slimming leggings like I wore. Since weather everywhere has been slightly erratic, I suggest you layer the top with a light cardi. Old Navy has a ton that are really affordable, like this one. I've been crushing hard on most mauve and blush tones, so I just purchased this oversized one from Free People. The price might be higher than I'd like, but I've honestly been living in it. It's coming on the plane with me to Paris this week. It's that good.
This Free People Deep V Bandeau cami is great for running errands on the weekend. It's casual but the lace detail amps it up a notch. You can also throw on a pair of velvet heels with it for a fun date night out. The versatility is exactly what women want.
I hope you grab it in a few colors before it sells out again! If you need any sizing or styling advice just let me know in the comments below.