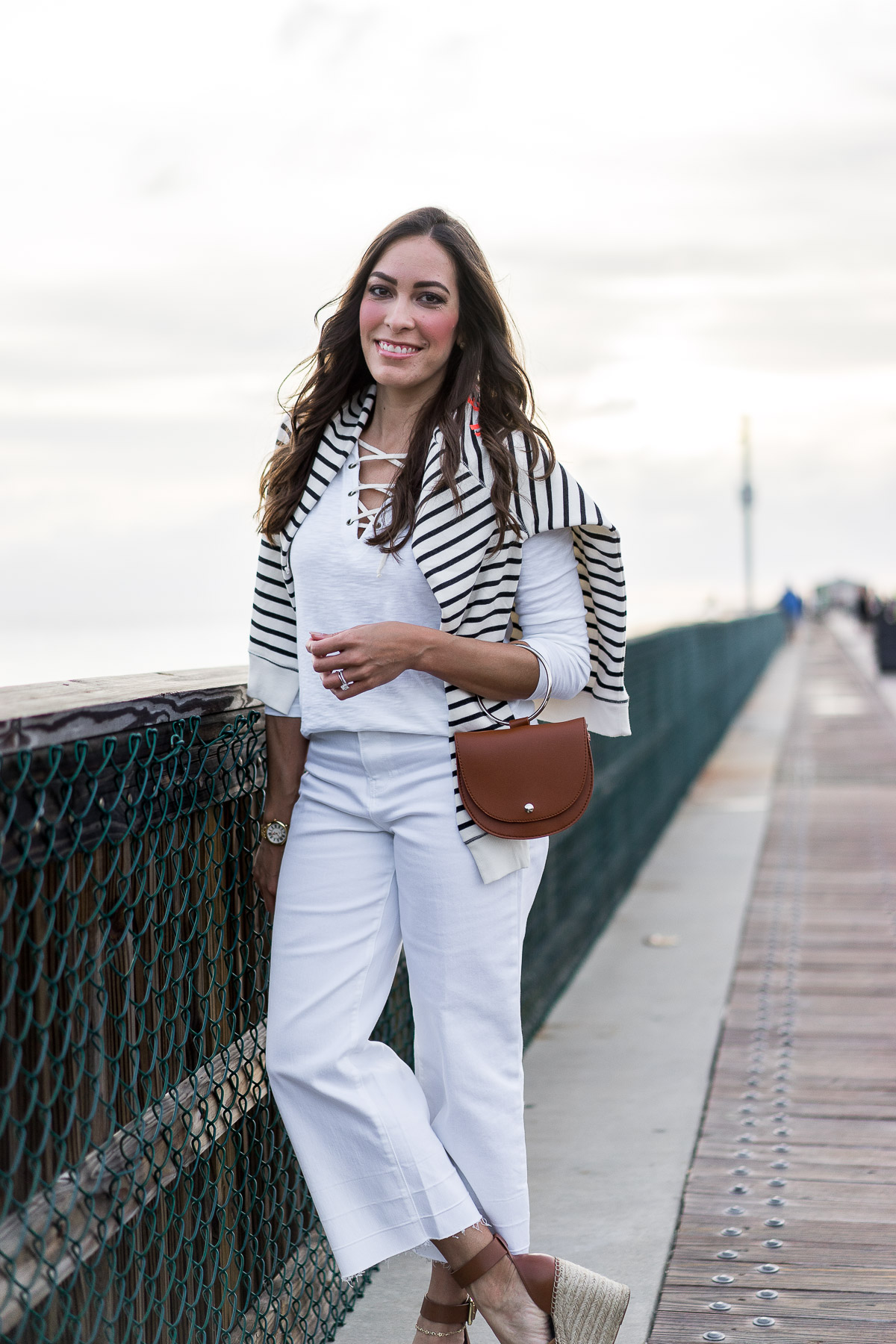 When you think of nautical style, I'm sure anchors and boats come to mind, as well as red and blue stripes. But, I'm here to remind you that you can make any theme your own by simply applying your personal touch to it. In this post brought to you by Old Navy, I'm sharing my favorite pieces from their Spring collection for a neo-nautical look, including this white lace up tee, this fabulous high waist wide leg white denim and this adorable striped sweatshirt.
Shop the Post

Top: Old Navy c/o
Denim: Old Navy c/o
Sweatshirt: Old Navy c/o
Shoes: Marc Fisher (also love these and these)
Bag: Lulu's (similar here)
Old Navy – Neutral Nautical Style
True to form, when I wear an outfit that's dubbed nautical style it's still with a neutral vibe to it. For Old Navy's #SayHi campaign for Spring, the beach and ocean immediately came to mind. Matt and I take walks down to the beach nearly every weekend (as long as it's not raining). So, right now Spring transitional pieces are a must have. When I saw how cute (and affordable!) all of the Old Navy pieces are in stores and online I wanted to share my favorites with you. Plus, nearly all of them are under $30!
Again, to dress in a nautical theme doesn't mean you have to wear bold stripes or anchor print. Since I love a soft palette, I gravitated toward this soft white lace up tee that I'll be styling with this high waist wide leg white denim for the next several months. If you need another layer, grab this striped french terry sweatshirt. It's super cute and says "Hello There" on the front in a bright orange color.
I also love this thin striped midi dress and would pair it with this white boyfriend cardigan. If you're into the bolder stripes, then definitely grab this sweater shell. It will be good for Spring and Summer.
All of these items from Old Navy make it so easy to perfect Spring style! What do you think of my outfit? Tell me in the comments below.
*This post is sponsored by Old Navy, and I received compensation for my review. But, as always – all opinions are my own. This post contains affiliate links, which means that if you click on one of the product links or purchase one of the products promoted, I'll receive a commission.