This past weekend, I made the next (giant) leap in my blogging adventures by attending Simply Stylist's Chicago event. A large group of fabulous and beautiful fashionistas from Chicagoland and others who flew in for the event were on hand to network, connect, and listen to a panel of inspiring entrepreneurs.
The gorgeous Dana Hotel & Spa served as our locale for the day. A group of us enjoyed the rooftop deck and bar before the panel session, and I could not get enough of the swinging bench! I actually got to enjoy a "Chicago Summer Day" that I've heard so much about but never experienced firsthand. It was nearly 91 degrees the day of the conference – it felt just like home…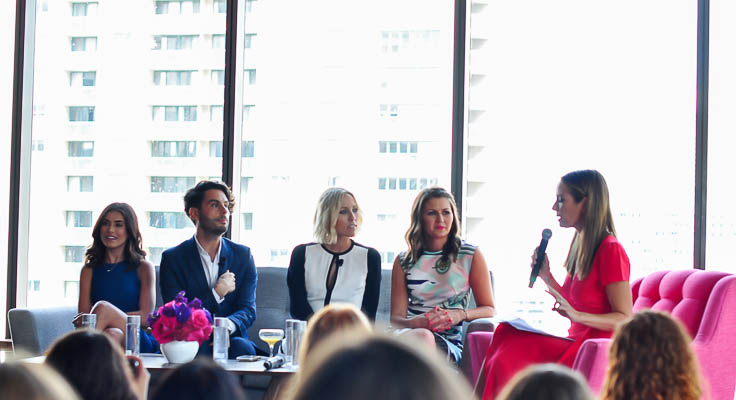 When I decided to take the leap and start my blog back in March, I knew some people thought it was silly. A fashion and lifestyle blogger? Why? So, you can imagine the reactions I got when I told people that I was flying up for Simply Stylist Chicago, a blog-related event.
But, the panel of successful bloggers proved – it can become much more than just the blog itself. You're truly developing and putting your personal brand on display. For some bloggers, that leads to collaborations with brands they love and admire. For others – it becomes their full-time job and career!
Being in a room full of ladies (and some men) who have been dedicating themselves to their own journey's for years and who all share a common goal was comforting and encouraging. I've only been blogging for a few months now, but sometimes I wonder – is anyone even reading this? Do people like it?!
The panel (see picture above) was a stellar group of heavy-hitters, including Jacey Duprie from Damsel in Dior (one of my FAVORITE bloggers), Sazan Barzani, Joey Maalouf, and Corri McFadden. The event was moderated by Catt Sadler, the multi-talented host of E! News.
I've always been a huge fan of Rachel Zoe, so I was super familiar with Joey Maalouf. Dear god – he is HYSTERICAL! I am anxiously awaiting the video of the presentation to be released so I can watch him again. His rise as a makeup artist was quick, and of course, majorly accelerated when he synced up and became besties with Rachel. But, what came across most from Joey's story was that he constantly hustles. He's still hustling, even as he launches The Glam App in major cities across the U.S. It was a great reminder that hard work breeds success.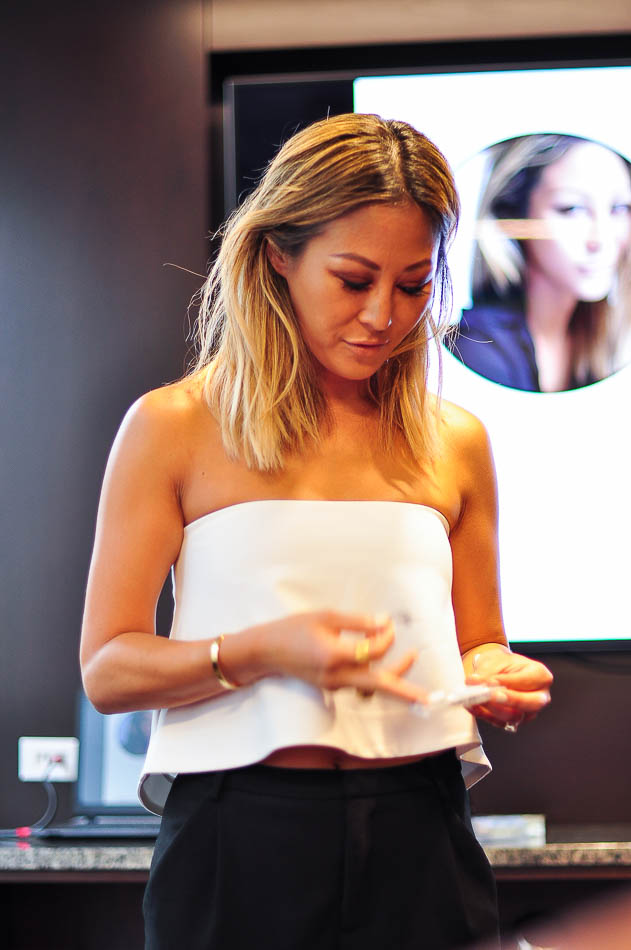 There were a handful of relevant and interesting breakout sessions after the panel and my favorite was put on by Catalina Su, celebrity makeup artist. I'm not completely hopeless when it comes to applying makeup, but I'm not a natural. Great photography is an incredibly important part of putting together a well-respected blog and that means you need to look great in your pictures! Lina's tips were easy to understand and she shared some of her favorite products from her own makeup bag. Not to mention – she killed it with her chic white crop top (Elizabeth and James) and tailored black crepe shorts.
Fashion expert and Joey's partner in The Glam App, Cara Santana, was also on site to detail her journey as a successful, female businesswoman (oh, and did I forget – hot actress!). Her breakout session focused on building yourself as a brand and her message was loud and clear – find someone who "gets it" and always be yourself. I had a chance to speak with her after the session and her energy was contagious (picture below).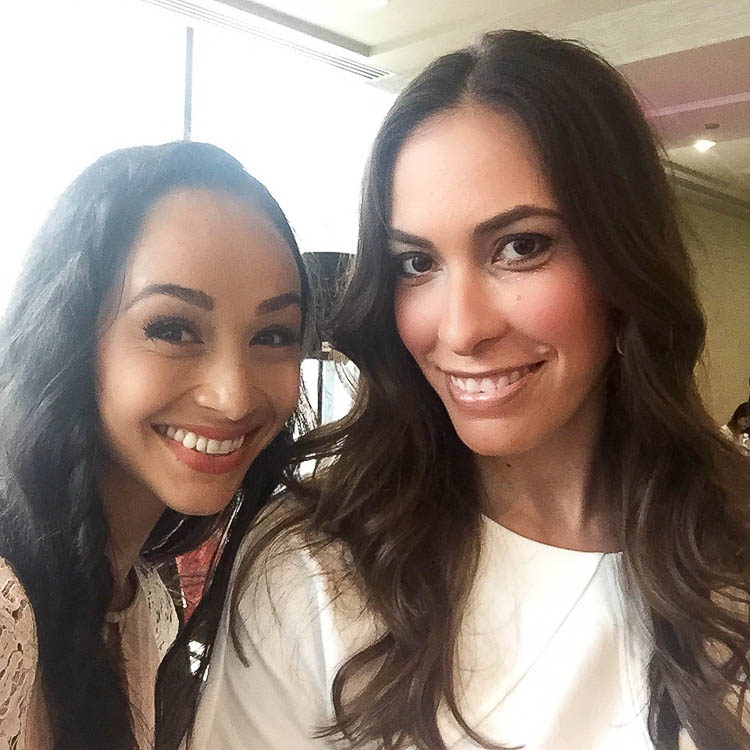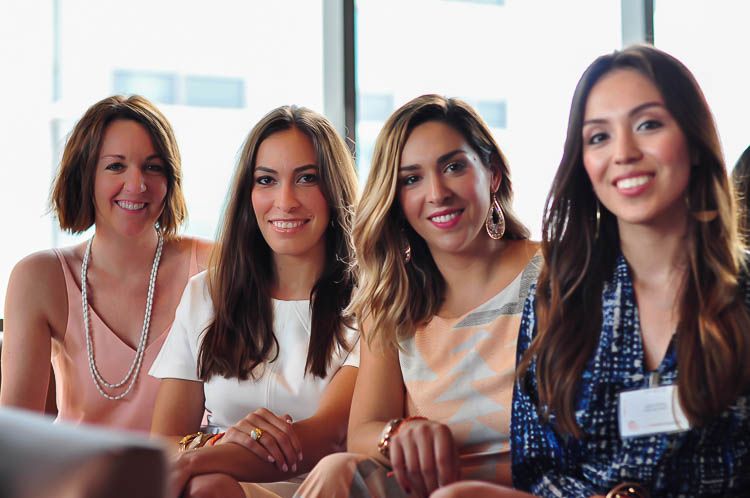 The most rewarding part of the day was meeting other fabulous bloggers and hearing what works for them. Sarah Boyd – it was mission accomplished for me at Simply Stylist Chicago! You connected me with an amazing group of women who were supportive and motivating.
The girls from Pretty Petals, Lake Shore Lady, The Fashion Hour, The Kissing Booth Blog, Windy Style, The Petite Diaries, and 26 And Not Counting (just to name a few) had the best tips and tricks of how to improve my blog. I met everyone during the VIP Brunch, so I'd definitely recommend getting the more expensive ticket in order to get the most out of the day since it gets busy during the panel and breakouts.
Networking was my top priority for why I attended this event and I'm glad I put myself out there as a new blogger. If you have any questions about the event and are thinking of attending in the future, please reach out to me! I'm happy to share more about my experience.
Romper: Rachel Zoe // Pump: Charles by Charles David // Ring: Julie Vos // Bangles: Julie Vos and Alexis Bittar //Bag: Chloe // Sunglasses: Karen Walker // Watch: Michael Kors